Jane Fonda re-wore her 2014 red carpet dress to this year's Oscars after her promise never to buy more clothes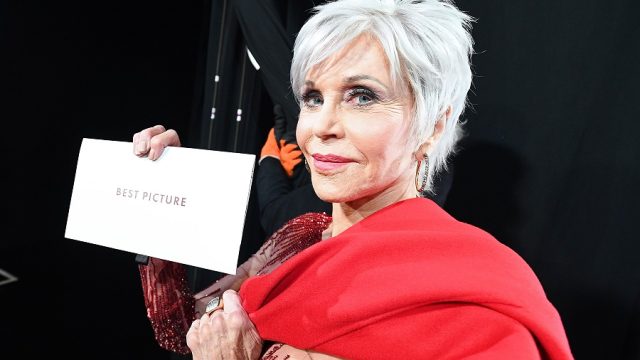 If the dress fits, wear it a second time. Jane Fonda presented Best Picture at last night's 2020 Oscars wearing the same red, beaded, Elie Saab Couture gown she wore to the 2014 Cannes Film Festival. The decision was part of the actress and activist's focus on sustainability, and it's clear that being green looks good on her.
In 2019, Fonda vowed to stop buying new clothing as part of her climate change activism.
The star hosts "Fire Drill Fridays" rallies to raise awareness of the devastating effects of inaction in the face of climate change. During one of her speeches, Fonda spoke to the crowd about the changes she was making in her own life to support the cause.
"When I talk to people about, 'We don't really need to keep shopping. We shouldn't look to shopping for our identity. We don't need more stuff,' then I have to walk the walk too," she said. "I'm not buying any more clothes."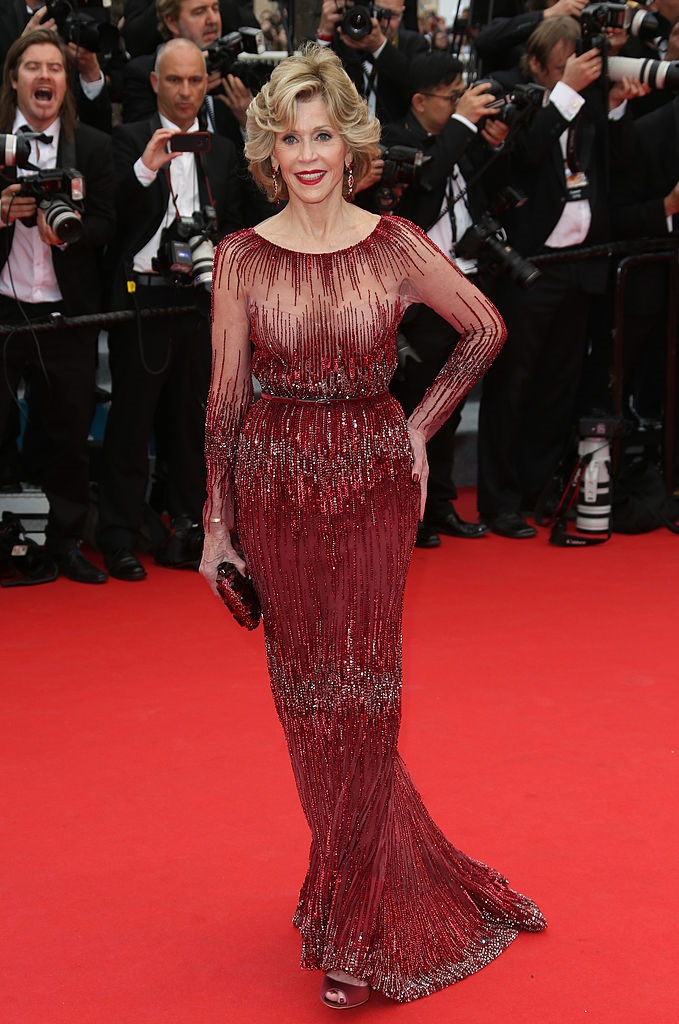 Though many stars attending Hollywood events borrow their red carpet fashions from designers, Fonda wanted to make a statement with her 2020 Oscars outfit, proving that she meant what she said last year.
To complete her look, Fonda also opted to wear responsibly-sourced and ethically-made jewelry.
"At Oscars wearing Pomellato jewelry because it only uses responsible, ethically harvested gold and sustainable diamonds," Fonda captioned the below photo, which she posted to Instagram.
https://www.instagram.com/p/B8YLzMaAHXN
Pomellato jewels also sparkled on the likes of Rebel Wilson, Sandra Oh, Lili Reinhart, Laura Dern, Regina King, and Joey King.
https://www.instagram.com/p/B8X6OAAKRnH
https://www.instagram.com/p/B8YhOJSqqEw
Fonda wasn't the only starlet to shop her own closet for an Oscars look. Elizabeth Banks attended the Vanity Fair Oscars party in the same Badgley Mischka dress she wore to the same party in 2004. Her goal was also to raise awareness about the connection between climate change and the fashion industry.
"It's gorgeous and it fits…so why not wear it again?!" Banks captioned a February 9th Instagram. "Proud to wear my @badgleymischka dress that I first wore to @vanityfair #oscars party in 2004, re-imagined with @wendiandnicole, to bring global awareness to the importance of sustainability in fashion and consumerism as it relates to climate change, production & consumption, ocean pollution, labor & women."
We love when sustainable looks take over the red carpet and when stars are more than willing to preach the importance of making responsible decisions whenever you can. We're looking forward to seeing more re-worn fashion at future red carpet events.