#SisterGoals: Jamie Lynn Spears posted cute photos supporting Britney at the Billboards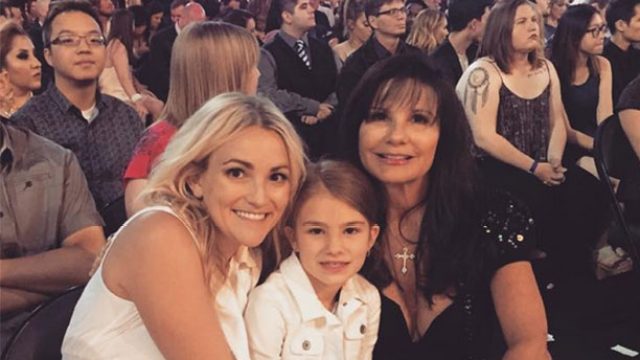 We've always been curious what it's like to be siblings with someone crazy-famous and this weekend, Jamie Lynn Spears showed us one of the perks: She attended the 2016 Billboard Awards in Las Vegas to watch her big sister Britney ~bring the house down~. Jamie Lynn posted Instagram pics all weekend, giving us a little behind-the-scenes peek.
First, Jamie Lynn posted a picture from Snapchat about being tired from traveling from Nashville to Los Angeles in Las Vegas in 24 hours. Oh, believe us, we understand:
Jamie Lynn then posted some photos of herself with her husband James Watson and her daughter Maddie:
We're really feeling Jamie Lynn's super-cute white sleeveless dress — very summery:
And guess what? Lynn Spears was there supporting her daughter, too. Jamie, Madison and Lynne posed for a sweet photo from the audience. Looks like good seats! And we're not 100% certain, but we think that miiiight be Steven Tyler sitting off to the left:
And of course, Jamie Lynn posted a picture of Britney's performance with the caption, "And my sister is a badass…btw…#proudsister" Oh we know, Jamie Lynn!
Britney shared her own Instagram pic of Madison doing some ~pretty~ impressive gymnastics. Damn, that looks like it hurts:
It's really sweet to see the Spears family showing so much love on social media. It's just a reminder that no matter how famous you are, it always feels good to have your sister right beside you.