Jamie Dornan's "sex sounds" in "Fifty Shades Darker" were more hysterical than sexy
Fifty Shades Darker might be sexy, but Jamie Dornan's sex sounds on set weren't. In fact, according to the actor it was much more goofy while filming than sexy.
The second installment of the Fifty Shades franchise just hit theaters, and although the movie is steamy as usual, filming it is much funnier than you'd expect.
While visiting The Graham Norton Show on Friday, Dornan who plays Christian Grey in the movie, revealed what kind of sounds he does on set.
After Graham Norton pointed out that this movie is actually much more romantic than the last film, Dornan agreed and explained what else there is more of.
"There's probably more sex in it," Dornan said before Norton piped back in saying, "Jamie doesn't speak."
"I make noises," the Irish actor explained. "American accent and noises."
Keanu Reeves was also sitting on Norton's interview couch and got in on the conversation. "Do directors say more vocalization? Or do they say less?" he inquired.
Dornan explained that during wide shots where they won't use the actual sound from the set, Dornan says, "My temptation is always to make Dakota [Johnson] laugh."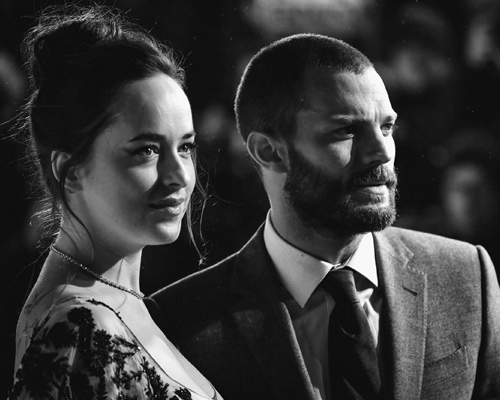 How does he make his co-star laugh while filming all those sex scenes?
He makes weird noises, and trust us they're hilarious.
"Sometimes I'll do things, when there is a moment where I'm meant to orgasm and I'll be like, 'doodle, le, doo, da do!" he said.
LOL, Christen Grey making strange sex noises sounds out of character, but when Dornan says it, we can't help but laugh.
https://www.youtube.com/watch?v=VhkiI05p7m0?feature=oembed
Check out the whole interview above with Dornan, Reeves and Whoopi Goldberg, who all added in their two cents about sex scenes. It'll definitely make you chuckle.
What do you think about the 34-year-old actor's approach to filming sexy, steamy scenes with Johnson?