The more you know: Jamie Dornan wore a "wee bag" while filming "Fifty Shades Freed"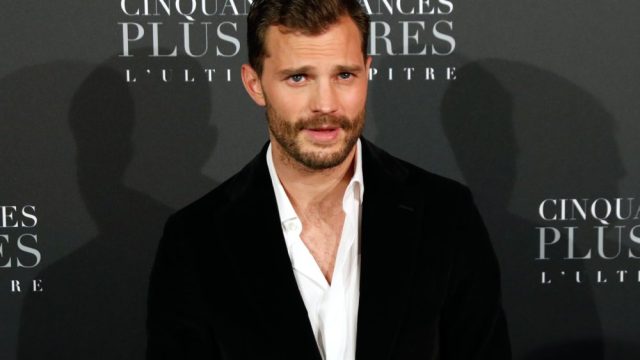 As sexy as things may appear to be onscreen in all the Fifty Shades of Grey films, Jamie Dornan is here to bring a healthy dose of reality to all your fantasies. Turns out that filming Fifty Shades Freed was a lot more chaste than you might think. In fact, Jamie and his costar Dakota Johnson are more like "brother-sister" (!!!) than their married and BDSM-loving counterparts, and yes, he knows how bad that sounds.
And the goods don't end there. When the Fifty Shades actor stopped by Jimmy Kimmel Live! to discuss the film, bless his heart, he was in quite the sharing mood. When Jimmy brought up what it's like filming all the sex scenes that the franchise is known for, Jamie started laughing about his "wee bag" that he had to use to cover his naughty bits.
"I wear like a wee bag," he says, before realizing the insinuation he just made about his own, ahem, size. "That's an expression that I say from where I am from, a wee bag, but it doesn't mean it's actually wee size. I wear like quite a big bag. I wear this huge, like travel sized, sort of stuff everything in there, like a potato sack."
Mr. Grey, don't you know that size doesn't matter? It's all in how you use that wee bag that counts! And the origin story of that wee bag is truly a wonder to behold.
"There was a selection of them for me and I picked one," Jamie says of when he had to wear one for the first time. "And I thought, I'll take them out of the packets, they'll be brand new, they'll have that brand new smell. And then I picked one that I liked the look of, and the shape of, and then in the seam it said 'Inmate #3.' It was like sewed in. I was like 'Shit, this has been used before?'"
As for who he was sharing his wee bag with, Jamie couldn't help but laugh. "When you picture the guy playing Inmate #3 in a movie in your head, it's not sexy," he says.
All sexiness aside, seriously, how adorable is Jamie when he gets all embarrassed? That grin is way cuter than any serious glare Christian Grey gives Ana in all the Fifty Shades movies combined.
https://www.youtube.com/watch?v=pGgTkFKfLXE?feature=oembed
Fifty Shades Freed hits theaters Friday, February 9th.