Jamie Dornan jokes about Ian Somerhalder replacing him in "Fifty Shades of Grey" and we're oddly okay with it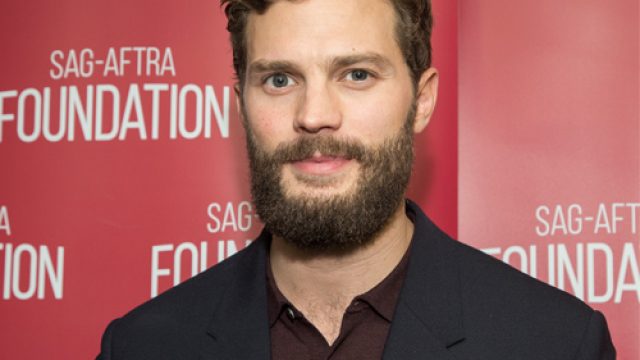 Attention: Fifty Shades of Grey fans, there's a new Christian Grey in the works!
Okay, don't panic, Jamie Dornan joked about Ian Somerhalder replacing him in the film series, but he was in no way being serious. Although, we're not totally opposed to The Vampire Diaries star taking off his shirt in a Fifty Shades movie.
On Thursday, Dornan appeared on Jimmy Kimmel Live! to promote his TV series, The Fall, but of course things quickly turned to talk about the Fifty Shades of Grey film series, in which he plays the sexy, Christian Grey.
Jimmy Kimmel decided to give the crowd what they wanted and ask the 34-year-old actor about the movie's sequel, Fifty Shades Darker, which hits theaters February 10, 2017 and the third installment, Fifty Shades Freed, which is slated for Feb. 9, 2018.
Dornan jokingly said that the sequels, "are going to ruin the franchise." Clearly he wasn't being serious, because the franchise is doing fine and the sequel is highly anticipated by fans who've read all the books and love seeing Dornan on screen.
Taking Dornan's lead, Kimmel then asked about the casting rumors he'd heard about the next two movies. "Supposedly, I heard that Ian Somerhalder is replacing you in that," Kimmel said. "Do you know anything about that? Is that true?"
"No," Dornan quickly replied. Thank goodness!
"I don't know," he continued. "That would be really hard for them to do, considering we shot both of the movies. That's an expensive mistake, I'll put it that way. But good luck to him—he'll be great!"
While we don't want to see Dornan go as the hunky Mr. Grey,  "Mr. Somerhalder will see you now," has a nice ring to it, don't you think?
Just look at those dreamy eyes, and his hair, and just everything about him screams sexy, so technically Somerhalder could handle the big shoes that Dornan currently fills.
Alright, so it was all a joke, but if Dornan were to step down as Christian Grey, Somerhalder would definitely have our vote as his replacement. Luckily, we don't actually have to deal with a casting change and instead can focus on seeing Dornan back on the big screen in Fifty Shades Darker come the new year.
Until then, we'll just watch Somerhalder as Damon Salvatore on The Vampire Diaries every week and think about what could've been!