Who is Jamie Anderson dating? Her other half is seriously lucky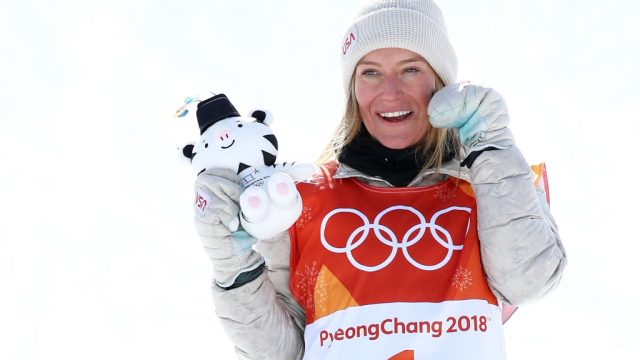 It doesn't matter who you are: if you've been watching the 2018 Winter Olympics, you can probably tell that Jamie Anderson is a total catch. She's gorgeous, insanely talented, and she just became the first female snowboarder in history to take home more than one gold medal. So who is Jamie Anderson dating? Who's the lucky person she gets to spend her off time with?
If you follow Anderson on Instagram, you already know that she's been dating fellow Olympic snowboarder Tyler Nicholson for some time now. This year, the 22-year-old also happens to be competing at the Olympics with Team Canada, which is pretty convenient for their relationship — and it also means that they have plenty in common, being that they're both so dedicated to the same sport and all. Finding someone who understands your training schedule can't be easy when you're preparing for something like the Olympics, unless your other half is doing the exact same thing.
Anderson and Nicholson have been together for years, and they were friends first.
According to an Instagram post Anderson made last year, these lovebirds were friends for two years before they started dating, and she even called him her best friend. In an interview with NBC before the Olympics kicked off, the snowboarder couldn't help but gush over how much her BF means to her.
"He is very supportive and he is a big part of my life," she said. "We push and train with each other. Makes it that much more fun."
Like any solid couple, they've already been cheering each other on at this year's Games. In fact, on Monday, Nicholson couldn't help but share how proud he was of Anderson for her gold medal win, by posting a photo of her with her new bling on Instagram. Is that super sweet or what?
Just in case you weren't 100% convinced that Anderson and Nicholson are the most adorable pair ever, feast your eyes on this photo, which Anderson posted during an adorable moment last month:
Seems like they're the perfect match.