James Van Der Beek's Six Kids Have a Serious Head Lice Infestation
"It's all fun & games until someone gets head lice," Van Der Beek wrote on Instagram.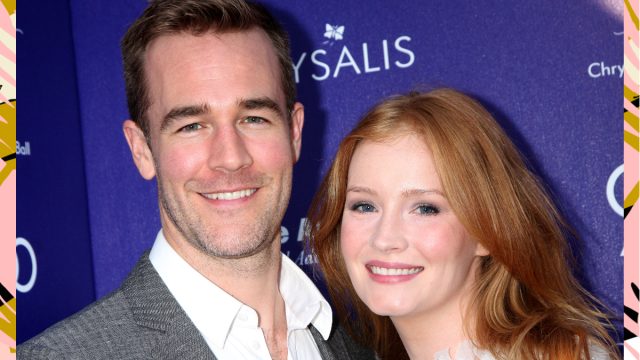 James Van Der Beek is up lice creek without a paddle. The Dawson's Creek star admitted in an Instagram post that his family is dealing with a head lice infestation and that not one of his six children has been spared an itch-free scalp.
"It's all fun & games until someone gets head lice 🥴," Van Der Beek wrote in the caption of the post, which included an image of his brood posing with Easter baskets and bunny face paint.
Head lice can be difficult to manage, as it can be tricky to spot and can spread quickly if not contained, according to the Centers for Disease Control. The parasitic insect travels via head-to-head contact, which makes children especially susceptible to infestations because of the way they interact during playtime.
RELATED: Gwyneth Paltrow Says Having Young Kids Will Ruin Your Relationship
Van Der Beek may not know exactly which of his six kids picked up "the bug." Schools can be a breeding ground for head lice, but, while five of them are school-aged, the Varsity Blues star's wife Kimberly has been vocal about homeschooling them in the past, so they likely caught them elsewhere.

Regardless of where the head lice originated, Van Der Beek's followers were gracious enough to offer helpful advice in the comments of the post.
"TEA TREE OIL!!" wrote Instagram user @kimber_arce. "You can put some in their shampoo for preventative measures. Rosemary oil as well."
Another follower @danimommy suggested Ivermectin lotion, which apparently "works with one application," while @monica_petrich suggested a more shelf-stable condiment: Mayonnaise.
"Cover their heads with mayo, wrap and wait 4 hours," she wrote. "Suffocates the lice and it's not toxic."
Some followers reminded Van Der Beek to take care of sterilizing his personal effects, like clothing, and the inside of his car, as head lice can come back if the source of the infestation isn't dealt with too. Others suggested the crew of blond-haired kiddoes all get buzz cuts.
"It gets hot in the summer in Texas right?!" wrote @jenndnagle, referencing their Austin-adjacent abode.
Luckily it seems the the actor, who celebrated his 46th birthday last month, seems healthy otherwise.  If there's suddenly a mayonnaise shortage in Austin however, Dawson might be to blame…
Kat is a born and raised New Yorker exploring the world as she writes, eats, and everything in between.
Read more