James Franco made the most ridic campaign video for Hillary Clinton (and we kinda love it)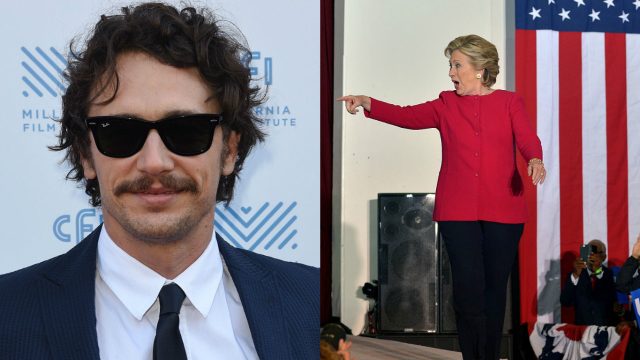 Thanks to James Franco, we now have a hilarious campaign video to feast our eyes on! We came across the actor / filmmaker's brilliantly done endorsement for democratic presidential candidate Hillary Clinton, and it's honestly the best one we've seen in a while.
With the election being overwhelmingly drab and awkward (not to mention, terrifying), it's nice to have a celeb shake things up a bit. The thirty-second celeb endorsement includes some pretty awesome facts about Clinton that many of us weren't even privy to — which absolutely proves, without a doubt, why Hill C is The Most Interesting Woman in the World.
"The smartest guy in the room is always her. After she opens a can of whoop ass, she always recycles the can. Her secret service codename is 'Hermione,' 'cause she's a fucking wizard."
https://www.youtube.com/watch?v=6JiSIUTEM2A?feature=oembed
One may say that Franco over-exaggerated Clinton's badassness a bit, but we think everything sounds legit. After all, he's not saying that Hill C is superwoman, or anything…it's just, no one has ever seen the two in a room at the same time.
But in all seriousness, Hillary Clinton is pretty admirable, and her list of accomplishments is beyond impressive. And because Franco, we now have a slew of other fascinating reasons to look up to her.
You can always count on James Franco to come with the really cute, and much needed, comedic relief.