James Franco has neon ombré hair now and it's strangely working for us
Should we laugh, cry or request the number of James Franco's hairstylist? This is the question we're asking ourselves after seeing this pic of Franco wearing neon ombré hair. How the actor so flawlessly pulls off this look is beyond comprehension at the moment.
Seriously, Franco's colorful new 'do has rendered us speechless. He does tend to have that effect on people (remember Franco's heartfelt love letter to McDonald's?). Anyway, take a moment to inspect, analyze and furrow your brow in wonderment while we gather our thoughts:
https://www.instagram.com/p/BI5G-pegeSQ
We never thought we'd see Franco post a rainbow hair selfie, but the style is strangely (and scarily) fitting, no? As it turns out, Franco isn't having a hair identity crisis. He's sporting the blonde-turned-rainbow-hued hair for his role in rapper and Spring Breakers co-star Riff Raff's upcoming music video, MTV reports.
Um, in that case, we're pretty comfortable assuming said video will be all kinds of cray.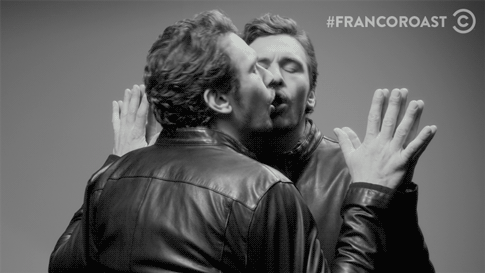 This isn't Franco's first time showing off a bizarre new hairstyle, but it's probably the most eye-catching.