James Franco showed up to the 2018 SAG Awards, but kept a low profile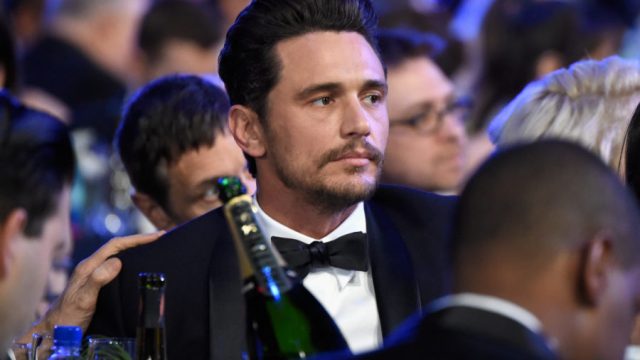 So, James Franco attended the 24th annual SAG Awards and kept a relatively low profile.
Nominated for his role in The Disaster Artist, Franco took home a 2018 Golden Globe in the Outstanding Performance by a Male Actor in a Leading Role category. Commentators wondered whether Franco would make an appearance at the SAG Awards, as he was notably absent from the Critics' Choice Awards on January 11 due to allegations of sexually exploitive behavior put forward by five women in an article in the Los Angeles Times. Franco garnered criticism for sporting a Time's Up pin at the Golden Globes. Despite being absent, Franco won the Critics' Choice Movie Award for Best Actor in a Comedy award.
Although he attended the SAG Awards, Franco was hardly seen during the event; he only appeared briefly on camera for a slice of a moment when the nominees in his category were announced.
Master of None actor Aziz Ansari was notably absent from the ceremony following revelations outlined in Babe.net's controversial article, "I went on a date with Aziz Ansari. It turned into the worst night of my life."
Franco's sister-in-law Alison Brie, nominated for her role on Netflix's Glow, spoke out about the allegations leveled against The Disaster Artist on E!'s red carpet with Giuliana Rancic, saying:
"I think that above all, what we've always said is it remains vital that anyone that feels victimized should and does have the right to speak out and come forward. I obviously support my family. Not everything that has been reported is fully accurate, so I think we're waiting to get all the information. But of course now is the time for listening and that's what we're all trying to do.
Brie is married to Franco's brother, Dave Franco, who also starred in the Golden Globe-winning The Disaster Artist.
Twitter had some thoughts on Franco's presence.
The SAG Awards aired on TNT/TBS and was hosted by Kristen Bell.