James Corden's wife went into labor, and Harry Styles took over his show with two hours' notice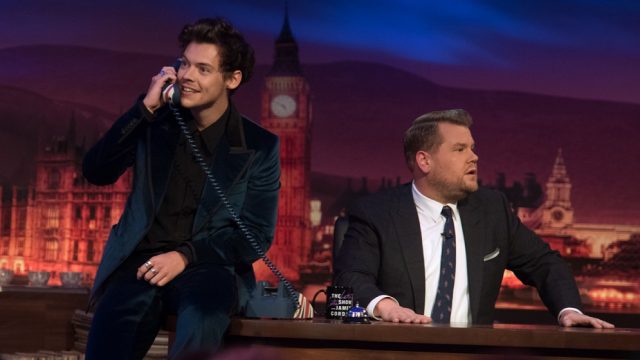 Looks like someone just got the best Christmas gift yet! James Corden welcomed a baby girl on Tuesday, and according to Corden, both newborn and mother, Corden's wife, Julia Carey, are doing well. This is the third child for the late night talk show host. He and Carey are also the parents of a six-year-old son named Max and a three-year-old daughter named Carey.
As of now, Corden hasn't announce the new baby's name or birth stats, but we're guessing the parents have chosen something lovely. A name Corden did mention in his tweet about the exciting news was "Harry," and that's because singer Harry Styles took over to host The Late Late Show on short notice due to the baby's birth.
Styles also announced Corden's exciting news at the start of the show, saying, "I actually have some great news. Just half an hour ago, James and his wife Jules had a beautiful baby girl." He then added in a joke, saying, "I was just at the hospital before I came to fill in, and she looks a lot like James — mainly because James looks like a giant baby."
Corden noted that Styles only had about two and a half hours to prepare for the show, meaning that Corden's new daughter has an incredible birth story to share when she gets older. (And she'll probably be a big Harry Styles fan.)
Even better, Corden and Styles were making headlines just yesterday, thanks to a sweet kiss the two shared during this year's Christmas edition of Carpool Karaoke.
https://www.youtube.com/watch?v=IQYLPEuAClo?feature=oembed
Corden and Carey, who have been married since 2012, announced the news of her pregnancy in July.
We're not sure how long Corden will be away from his show, but we think he should take all the time he needs. Many congratulations to the whole family!