Watch James Corden's beautiful tribute to the victims of the Orlando shooting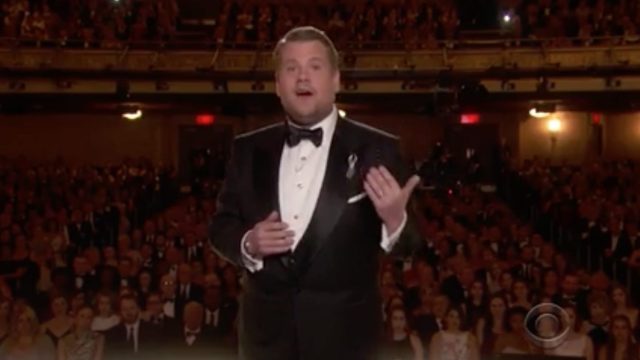 James Corden seemed like the perfect fit to host the Tony Awards this year. After all, the comedian became a household name through the popular Carpool Karaoke segment on his late night show and the Tonys are all about singing your heart out.
But in light of the recent events in Orlando, tonight's Tony Awards took on a different tone. And, to his credit, so did Corden. Rather than have a flashy, joke-filled, playful start to the ceremony (which would have been a little more traditional and immediately set the tone for the show), he paid a moving tribute to those affected by the tragedy.
On a quiet, bare stage the comedian stood alone looking directly at the camera sharing a very heartfelt message, "On behalf of the whole theater community and every person in this room, our hearts go out to all of those affected by this atrocity. All we can say is you are not on your own right now. Your tragedy is our tragedy."
As he continued, explaining that theater is a place where people from all backgrounds and beliefs are embraced and loved and where hate is unwelcome, his voice was filled with passion. After that beautiful dedication, the show began as planned with a comedy-filled high-energy Hamilton-style opener. Corden told jokes to a star-studded crowd as expected, but made sure to end the segment with one more impassioned message to the viewers by saying, "To the boys and girls, transgender too, to every Broadway would-be. Don't wonder if this could be you. It absolutely could be."