James Corden and Khloe Kardashian hosted a game of real-life Tinder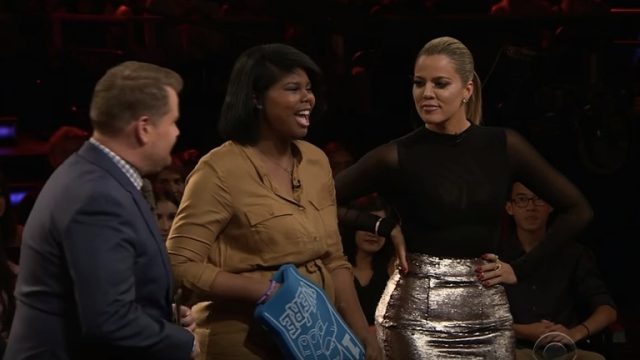 James Corden is a modern Cupid, or it at least seems that way from Tuesday night's episode of The Late Late Show. While modern dating apps are the new quick and easy way to meet people, James decided to take them off our smartphones create them IRL with his first ever segment of "Late Late Live Tinder."
The host specifically conducted this whole set-up for the show's production secretary, Paris, who is looking for love. By recreating the Tinder screen in real life (with a few additions, like a ball pit) James managed to give Paris the full Tinder experience, with the advantage of face-to-face interaction.
Oh, and Khloe Kardashian was there to help.
After Paris picked her date, the two went out to "dinner," aka had food surrounded by cameras on set.
Despite the awkward circumstances, the two actually seemed to hit it off. They both love music, and they seemed to enjoy each other's company. In fact, Paris thinks there may even be a second date.
In fact, there will be. As a reward for being such a good sport, James sent the two out on a proper date with no cameras at a fancy restaurant. Could this mean that soon we'll be having the first Late Late Live Wedding? Only if James can be the Late Late Live Maid of Honor.