James Corden performed an epic version of "Beauty and the Beast" in the middle of a crosswalk
When we said we were patiently awaiting the live version, we didn't mean this one. But, we're kind of glad it exists! Last night, James Corden performed Beauty and the Beast with a few notable cast members from the film. It happened in the middle of a crosswalk instead of on a stage or set, but hey. Sometimes you just can't stop art.
Luke Evans, Josh Gad and Dan Stevens — all who play pretty important parts in the film itself — helped Corden bring his vision to life. So, that covers the parts of Gaston, LeFou, and the Beast, you'd assume.
You can probably guess who ended up playing Belle.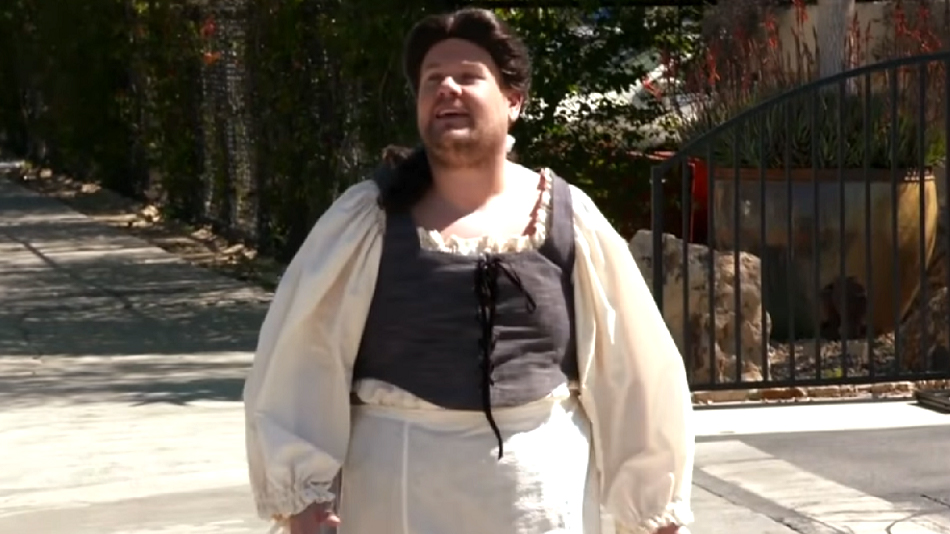 He looked lovely in the role. Watch out, Emma Watson!
Watch the full musical below, and be prepared to laugh your face off.
https://www.youtube.com/watch?v=nu4Pzsolyhg?feature=oembed
James Corden has had some good ideas before, but this one? Well, it might just be his best. He performed The Lion King in a similar fashion last year, but this one takes the cake. Regardless of the fact that he put everyone at risk of getting hit by a car.
We can't even imagine what it must have been like to watch the musical take place at a red light. We're sure it was probably the best performance that Los Angeles has seen via car.
We're also happy that Josh Gad finally got to play Lumiére. His performance of "Be Our Guest" was simply inspiring.
Also inspiring? The amount of work that the cast and crew put in to making this a reality. We mean, this can't be easy.

Was it worth it? Definitely. We'll be laughing about this version of "Crosswalk The Musical" for quite some time!