James Corden's "A Quiet Place" parody is actually terrifying, but not in the way you're thinking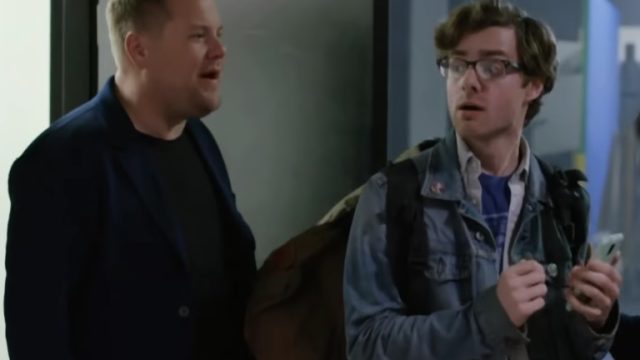 A Quiet Place is currently crushing it at the box office — well done, John Krasinski and Emily Blunt! So it makes sense that James Corden would make a parody of it for The Late Late Show. However, we didn't expect it to actually scare us…
The movie itself is about a family forced to live in silence in a post-apocalyptic world to avoid creatures that hunt by sound. The thriller's not only a huge financial success — it's also been met with much critical acclaim. Even celebrities not affiliated with the movie are making a point to promote it, showing just how much people are loving it.
But Corden took the concept in a decidedly different, yet equally scary (and yes, hilarious) direction. The parody begins with three of Corden's coworkers eating their lunch in the communal office space in absolute silence, fearful that any noise might attract…James Corden. Several more of his colleagues then attempt to avoid him while playing board games (to no avail).
Basically, in "A Quiet Late Late," Corden isn't there to hunt the staff. He's there to join them and weasel his way into their hangouts.
https://www.youtube.com/watch?v=nOdJXehTrDc?feature=oembed
LOL. This might be one of the best parodies we've ever seen, because it speaks to something that actually scares us IRL — awkward social situations (the horror!).
And all jokes aside, if you haven't yet seen the real A Quiet Place, you may want to consider working it into your weekend plans ASAP. Even Stephen King is tweeting about it.
We're serious. It's GOOD.