James Corden just hosted "The Late Late Show" in a stranger's house and it was incredible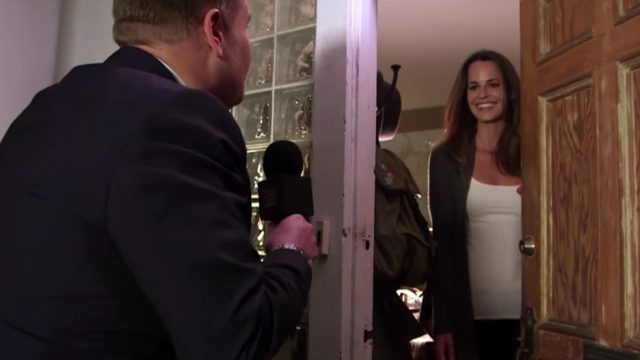 To commemorate his one year anniversary on The Late Late Show, James Corden wanted to do something memorable. It's hard to top the antics that have already gone down on the show, but on Wednesday night, James had an idea that blew everything else out of the water: hosting the entire show in a stranger's house just a few blocks from the studio.
The first step? Finding someone who would let them bring the entire crew plus guests into their living room. It wasn't easy, and they were turned down a few times before they finally knocked on Natalie's door. She lives in her house with her sister, Melody, and their friends Taylor and Adam, who were recently engaged. Luckily, they're all big fans of the show, so although the idea was absolutely crazy, they were all totally down to give it a try.
What ensued was a night of late night television history, including a performance by Demi Lovato and a game of hide and seek with Demi, Colin Farrell, and Wanda Sykes.
This was a great show for so many reasons, not just because everyone was participating in this crazy idea, but because the weird premise for the episode meant everything that happened was 10 times funnier. We want to see this happen again, but at the same time, we don't know if it could ever top the magic that's already happened!