James Corden falls down the stairs before rapping the Grammys opening number, and LOL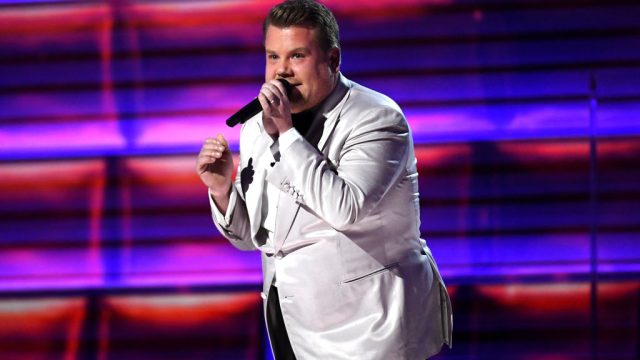 If you weren't watching the opening number from the 2017 Grammy Awards, you missed out on some fabulous hilarity. Naturally we expect nothing less from James Corden, who is hosting the Grammys this year. The Late Late Show host is making his Grammys hosting debut, but knowing how amazing he is singing Carpool Karaoke and other musical numbers, we knew he would kill it.
And he did, starting with a hilarious opening number. While Corden set up a dramatic musical number, he promptly flipped that on his head when he fell down some well-lit stairs. At first we thought the fall was accidental, but then we were relieved to realize his genius physical comedy bit was all part of the plan.
James Corden made us totally LOL with this fabulous opening fall.
LOL, so adorably hilarious. We love this opening to the show, because we know that James will have a sense of humor throughout, which we ALL need right now.
After his hilarious fall, James launched into a VERY impressive rap.
https://www.youtube.com/watch?v=QpbjAhEmtt4
WOW, now those were some really awesome rhymes. We could never speak that fast, and we need to watch it at least five more times to hear all of the genius lyrics.