James Corden and Ellen DeGeneres couldn't finish Drake's "Hotline Bling" lyrics, and we're facepalming for them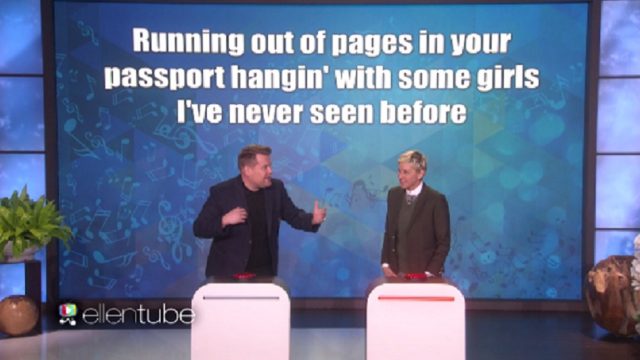 When you can't even manage to finish the lyrics to "Hotline Bling," baby, that could only mean one thing: Drake is definitely somewhere lurking in the corner, prepared to punish you with his most painful disappointed face (those eyebrows get us every time), because how in the world could you let this happen?
That's the question we have for James Corden and Ellen DeGeneres, whose lyric fail took place during a game of "Finish the Lyric," a new game show segment featured on Ellen. Hosted by Modern Family's Jesse Tyler Ferguson, the two talk show hosts went head-to-head, battling to see whoever could be first to hit the buzzer and correctly complete the lyrics of a featured song snippet.
Now, we know Corden as a music connoisseur whose lyrical knowledge gets an energetic boost when he's driving a car while a celebrity rides shotgun. Plus, he hosting the Grammys. He's got this competition in the bag, right?
Er, well perhaps something went wrong because Corden wasn't singing in a car. As for DeGeneres, we have no words, Ellen. After Corden correctly finished Taylor Swift's "Bad Blood," he started feeling a little cocky, er, confident right away.
And then this famous Drake lyric appeared on the screen:
"Running out of pages in your passport/Hangin' with some girls I've never seen before"
Those lines should've been followed by the famous lyrics, "You used to call me on my cell phone/Late night when you need my love." Instead, both DeGeneres and Corden drew blanks, and oof, we're facepalming with them.
Watch the full competition below:
Great job overall, James and Ellen! But we have a feeling Drake will be calling both of you on your cell phones in the near future.