James Corden just premiered the first ever "Baby Bowl" and it's too cute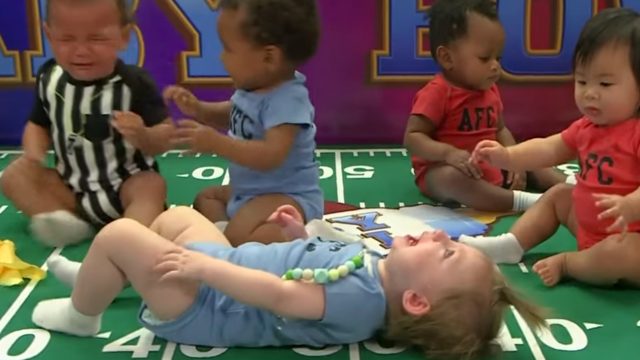 Animal Planet's "Puppy Bowl" is an important companion to the annual Super Bowl, and now, there's another Bowl in the mix: the "Baby Bowl." Coined by James Corden, it's pretty much exactly what it sounds like, and as you might expect, it doesn't entirely go as planned.
While neither babies nor puppies understand how football works, puppies are generally very optimistically clueless, whereas babies, while equally as adorable, can be pretty cranky. At least, these babies definitely were. What started as playful bumbling around the field turned into an all-out tantrum that caused one anchor to cry, "Strictly speaking, you should not be doing this with babies!"
However, there was definitely one highlight. Even though it's just the "Baby Bowl," they still managed to snag Chris Martin for their halftime performance. Sitting at a tiny piano, Chris attempted to console the players, who didn't really understand that they were in front of music royalty.
While the "Baby Bowl" might not catch on, at least we can enjoy this hilarious first attempt. Watch below!