James Corden and his wife apparently had no idea she was in labor, and that's scary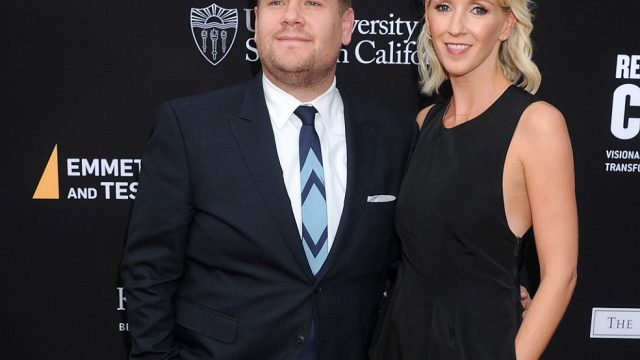 Even though they've done this twice before, every baby is a little different. James Corden's wife didn't know she was in labor, meaning that there was a very good chance that Corden's youngest daughter may have been born at home without preparation — or, while the couple happened to be far away from the hospital.
During his monologue on The Late Late Show, Corden mentioned that his wife, Julia Carey, who was eight and a half months along, felt some stomach pains this weekend. But since they seemed to disappear pretty quickly, the two thought nothing of it — until their check-up on Tuesday, when the doctor announced that their daughter would be making her arrival early.
"We were unprepared," he admitted. "And it's a really terrible thing if you're in a room and your wife is eight-and-a-half months pregnant and the doctor is talking to her about very serious things about giving birth and there's really no easy way to bring up the fact that you have to tape a show that day. Take my word for it — you can't say it without sounding like a dick. I was like, when you say likely, how likely?"
Luckily, the host has a lot of friends in the business and managed to get Harry Styles to take over the episode at the last minute. Literally. The musician only had a little over two hours to prepare for the gig before taping.
https://www.youtube.com/watch?v=87cb1JXoLho?feature=oembed
"It's been a whirlwind 48-hours, it really has," Corden admitted.
Corden said that Styles was nervous about taking the gig with little preparation, but as we all know, he did a great job.
Corden admitted that the favor would go both ways, and he'd have no trouble filling in for Styles if need be.
As of now, Corden's new daughter doesn't have a name — and even though Corden noted that he suggested "Beyoncé," it looks like that may be off the table. Still, we're glad that Carey gave birth in a comfortable place, and was able to welcome a healthy, sweet new addition to the family.