Jameela Jamil just shared the story of her suicide attempt for the first time—here's why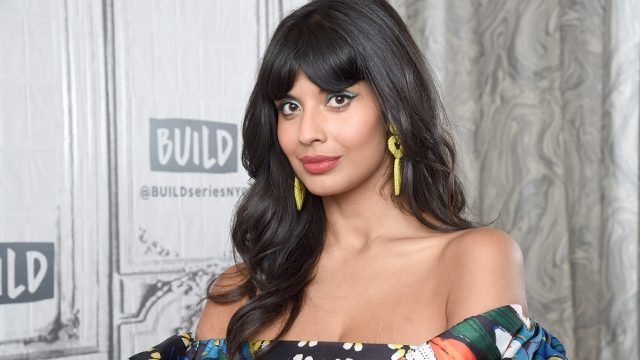 Trigger warning: This article discusses suicide.
In honor of October 10th's World Mental Health Day, actress and activist Jameela Jamil opened up to fans on Twitter about her suicide attempt. Jamil, who stars on The Good Place, has been transparent about her own personal mental health journey in the past. Today, Jamil pleaded with others who may be struggling to "hang on just a bit longer."
"Today is #WorldMentalHealthDay," Jamil wrote in a tweet today. "This month, 6 years ago, I tried to take my own life. I'm so lucky that I survived, and went on to use EMDR to treat my severe PTSD. I urge you to hang on just a bit longer and ask for help if you need it. Because things can turn around. I promise."
In a followup tweet, she added, "There is so much work to do in improving awareness and mental health care, and we need to further de-stigmatize the conversation around asking for help."
"ALL my love to you," she said, concluding the tweet.
Jamil then recommended followers check out the writing of mental health and feminist advocates Matt Haig, Ayishat Akanbi, and Scarlett Curtis.
https://twitter.com/udfredirect/status/1182317661989961730
https://twitter.com/udfredirect/status/1182318819475255296
EMDR stands for "Eye Movement Desensitization and Reprocessing," and it's a treatment used to help your brain process trauma. According to the EMDR International Association, EMDR therapy works by having a client focus on a specific event and the negativity surrounding it, as well as "a positive belief that would indicate the issue was resolved."
An EMDR therapist then goes through sets of side-to-side eye movements, sounds, or taps while the client is focusing on their upsetting event, and guides the client to notice what comes to mind after each set of actions.
"They may experience shifts in insight or changes in images, feelings, or beliefs regarding the event," the International Association writes. "The sets of eye movements, sounds, or taps are repeated until the event becomes less disturbing."
Jamil previously opened up about using EMDR to treat her PTSD.
"I had a therapy called EMDR that I used for depression, anxiety, eating disorder issues and PTSD, and if you should be lucky enough to access any mental healthcare I would urge you to spend your money on that before ANYTHING else that isn't a necessity for your life," she wrote in a July Instagram post. "Saved my life."
In January, Jamil told ELLE Magazine that EMDR is "a specific kind of therapy that removes the conditioning of irrational thought. So it goes right to the core of the problem."
"It's very good for PTSD, anxiety, depression, eating disorders, and OCD—all of which I had," she continued. "Within a matter of months, it just sort of extracted the root of the problem, which meant that I didn't have to deal with the symptoms anymore."
Of course, working with a healthcare professional is key to finding the kind of therapy that best suits you and your needs. And reaching out to those who love you to get started on your mental health wellness journey is one important first step.
https://twitter.com/udfredirect/status/1182319225349607425
Jamil opening up about her own experience with mental health and life-saving therapy is helping to normalize the mental health struggle. She's using her platform to encourage others to take the necessary steps to find help and work on becoming well.
If you or anyone you know is dealing with thoughts of suicide, you can reach The National Suicide Prevention Lifeline 24/7 at 1-800-273-8255. You are not alone.