Jameela Jamil came out as queer amid backlash to her casting on HBO's voguing competition show
After receiving backlash about her casting on HBO Max's upcoming voguing competition show, Legendary, actor and activist Jameela Jamil just came out as queer. In a Twitter post on Wednesday, February 5th, Jamil explained that she "never officially came out as queer" until now because she was afraid of "being accused of performative bandwagon jumping" on social media.
Yesterday, the Good Place actor was roundly criticized for taking a role as MC on Legendary—a show that centers on ballroom culture, which was created by LGBTQ people of color in the 1960s "to provide community, safety, and guidance"—when she didn't seem to have any ties to either the queer or ballroom communities.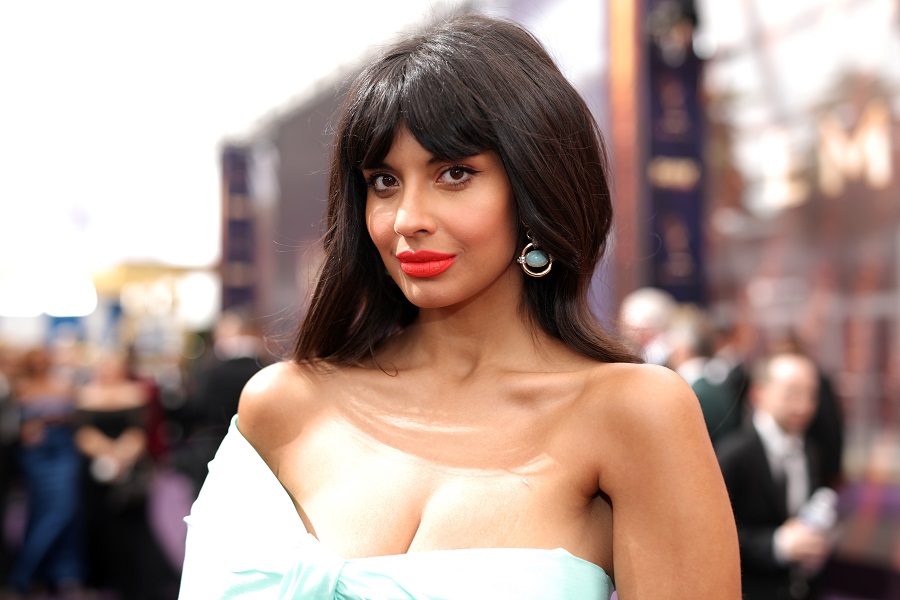 In her tweet, Jamil said that "this is absolutely not how I wanted to come out."
She added that she kept her sexuality quiet because "it's scary as an actor to openly admit your sexuality, especially when you're already a brown female in your thirties." However, she stated, "Twitter is brutal," seeming to address the backlash over her Legendary casting as the decision for her coming out publicly for the first time. Jamil went on to speak to the concerns over her qualifications to take part in a voguing competition show.
"I know that my being queer doesn't qualify me as ballroom, she wrote. "But I have privilege and power and a large following to bring to this show...and its beautiful contestants and ballroom hosts. Sometimes it takes those with more power to help a show get off the ground so we can elevate marginalized stars that deserve the limelight and give them a chance.
https://twitter.com/udfredirect/status/1225165342965669888
She also reiterated what seemed to be in confusion Tuesday: that she's not an MC, but "a lead judge." In the hours after HBO Max made its casting announcement, Jamil claimed that the press release misrepresented her as the MC. She clarified that she'll be heading up a judging panel alongside Megan Thee Stallion, Law Roach, and Leoimy Maldonado. Ballroom member and "King of Vogue" Dashaun Wesley will be taking on the role of MC.
https://twitter.com/udfredirect/status/1225053181023006721
In her post, she attributes her casting as a judge to her "11 years of hosting experience, being fully impartial, a newcomer to ballroom (like much of the audience will be) and therefore a window in for people who are just discovering it now, and being a longtime ally of the lgbtq community."
In response to HBO's announcement on February 4th, ballroom members, LGBTQ people, people of color, and many others took to Twitter to express their anger and disappointment in the casting decision. Many believed that the role should have gone to someone with actual experience in the ballroom scene.
Jamil's latest tweet is receiving its fair share of backlash, too.
Trace Lysette, an actor and ballroom fixture who auditioned for Legendary, confirmed Jamil's statement that being queer doesn't qualify someone to judge a voguing competition. "The only thing that makes you ballroom is if you are actually from it," she wrote.
https://twitter.com/udfredirect/status/1225201883087691776
People have also accused Jamil of weaponizing her queerness to circumvent criticism from Black trans people. Writer and podcaster Ira Madison III also criticized Jamil's "insistence that 'Twitter is brutal,'" which diminishes the legitimate concerns that queer people of color had about her casting. More people are chiming in on the conversation, too. false false
In the meantime, the show is most definitely going on. Jamil said that shooting begins tomorrow, February 7th. "I hope you don't let a few castings designed to help the show get off the ground stop you from supporting the talent from Ballroom on this show," she concluded her post. "They really are fucking amazing and I'm really honored to work with them."