Jake Gyllenhaal, Sean Hayes, and James Corden ~secretly~ sang "A Whole New World" at the Tony's
Last night's Tony Awards promised us the best that musical theater had to offer — plus a few surprises. Our favorite moment (even though, let's be honest, our favorite moment was all of it) actually happened behind-the-scenes when James Corden, Jake Gyllenhaal, and Sean Hayes took the stage during a commercial break to treat the audience to a rendition of "A Whole New World" from Aladdin. Sean was kind enough to post a video on his Facebook, and now we can't stop watching.
During the break, James asked the audience for volunteers for "commercial karaoke," a riff on his famous "Carpool Karaoke" segment that we love so much. "Jake Gyllenhaal & I were happy to oblige," Sean writes on his Facebook post, where he uploaded the video, making our hearts oh-so-happy.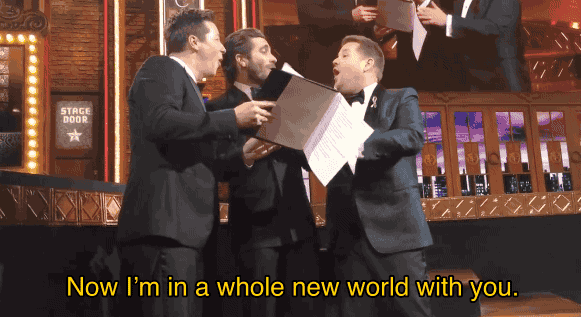 This just proves that the Tony Awards were filled with some of the most talented people in the business. I mean, who else but this audience could throw together an impromptu live performance that managed to leave our hearts so full of love? As far as we're concerned, everyone in that room was a winner last night, just because they got to experience such a heartwarming, genuine moment of Broadway love.
Watch the full performance below!
https://www.facebook.com/plugins/video.php?href=https%3A%2F%2Fwww.facebook.com%2F235697306486594%2Fvideos%2F1091686007554382%2F&show_text=0&width=560