Jaime Lannister is almost totally unrecognizable in this new role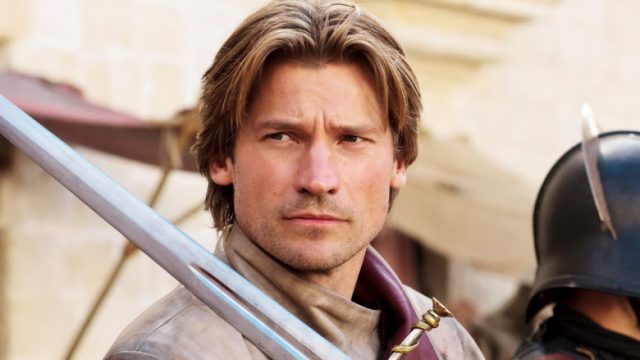 While there are many attractive and fantastic actors on Game of Thrones, Nikolaj Coster-Waldau, aka Jaime Lannister, ranks pretty high on the hotness and talented scale. (But hey, who's counting?). In his newest role, however, Coster-Waldau looks a world away from the hunky Jaime. The actor's newest film, Shot Caller, features him as a prison gang member who gets in too deep. And in it he rocks a serious mustache.
https://www.youtube.com/watch?v=Xm157yQ7g1E?feature=oembed
Coster-Waldau's character starts off as a wholesome family man who works in finance. But following a DUI, he goes to prison. There, he becomes a fearsome white nationalist who works for a gang, smuggling drugs and eventually committing murder. As The Nerdist recaps, Coster-Waldau at one point has to stick a balloon full of drugs into an, um, unsavory body cavity. Maybe even Jaime Lannister would be scandalized.
And as he transforms into a prison tough, his 'stache gets bigger and bigger and we see less and less of our Lannister fav.
JAIME.
Coster-Waldau is coincidentally in another prison film out this year, the Netflix original Small Crimes, which came out in March. In that flick, he's a former cop who goes to the slammer for attempted murder. AND he's in the upcoming 3 Things, where he plays a bank robber who ALSO WENT TO JAIL. Ok, guys, he can play other things!!
Honestly, we'll take Coster-Waldau in any form we can get him.
He's not the only GOT star with cool upcoming side projects. Emilia Clarke has a new film slated for 2017 where she plays an impoverished woman in Appalachia. Meanwhile, Sophie Turner will appear in two dramas this year, Huntsville and Time Freak.
Shot Caller comes out August 18th, which means we'll get more than our fill of Coster-Waldau. The new season of Game of Thrones premieres July 16th.