Jaden Smith thinks a hotel spiked his pancakes with cheese, which honestly doesn't sound that bad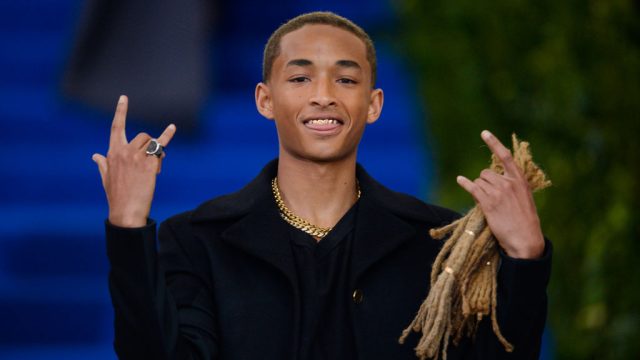 In a series of upset tweets over the weekend, Jaden Smith claimed the Four Seasons "spiked" his pancakes with cheese. Smith also alleged that they kicked out him out of his room. The actor was staying at the Four Seasons in Toronto, Canada, where he is currently filming Life in a Year. On Sunday, the vegan tweeted, "The Four Seasons In Toronto Spiked My Pancakes With Cheese, I'm Surprised I'm Still Alive." He then added, "The Four Seasons In Toronto Just Made Me Want to Throw Up On MySelf, "After They Kicked Me Out Of My Room." Smith also tweeted that he hoped the landed on the hotel's "no stay list." Ouch. HelloGiggles' request for comment from the Four Seasons Toronto location was not immediately returned.
However, E! News was able to contact a source close to the situation that said Smith had asked for an extra night in his hotel room. The hotel was reportedly at capacity and didn't have another room to offer the star. The Four Seasons also serves Lemon Ricotta Pancakes, so it's entirely possible Smith asked for "pancakes" and didn't specify that he wanted them vegan. Although, it's a pretty well-known fact that the actor and musician is a vegan — he talks about it all the time. He announced he was a vegan at a concert in Dubai and has been recognized for his environmental activism by the Environmental Media Association.
Jaden Smith was not happy about his "spiked" pancakes.
He probably won't be coming back to stay.
But maybe this whole Twitter rant was about something else. Jaden always seems to enjoy when people are paying attention to him. He said in his now famous New York Times magazine interview, "I have a goal to be just the most craziest person of all time. And when I say craziest, I mean, like, I want to do like Olympic-level things. I want to be the most durable person on the planet." 
Maybe calling out the Four Seasons for their cheesy pancakes is just one step in that direction. You have to admit, calling a hotel out for "spiking" the hotcakes is something only Jaden Smith might think of doing. Let's hope he gets some regular, edible breakfast food soon.