Jackie Aina received the Influencer of the Year award by WWD, and here's why that's important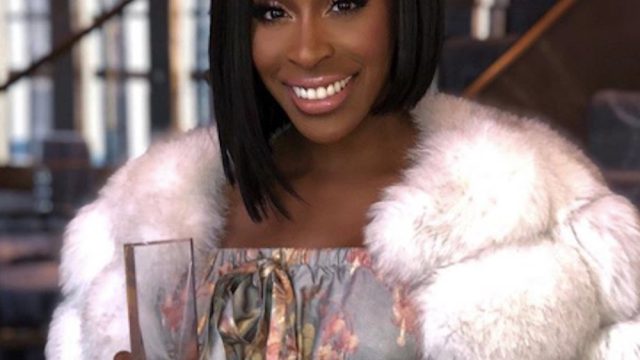 It goes without saying that one of the original YouTube beauty gurus, Jackie Aina, has done an impeccable job of using her platform. She is always pushing for inclusivity and is a voice for people of color who don't always feel "seen" in the beauty industry. So it came as no surprise that Women's Wear Daily named Jackie its Influencer of the Year.
Jackie is more than deserving of this esteemed honor. Whether she's working with brands to expand their foundation ranges or challenging creators to embrace Black-owned beauty brands, she's the perfect example of how to use her influence for the greater good. On this topic, she told WWD:
"On my personal platforms, I support up-and-coming, new creators who look like me. Sometimes I'll randomly message people who I've been following for a while, 'Great videos, great potential, but your camera's really crappy. Can I get you a new lens?' I've helped smaller creators negotiate contracts. I just want to see people win and not get taken advantage of because, unfortunately, it happens."
https://www.instagram.com/p/BrYXbuaFUg9
Since starting her channel about 10 years ago, Jackie has amassed over 2.5 million followers on YouTube and over 1 million on Instagram. Aside from her impressive following, the beauty guru doesn't just talk the talk. She walks the walk.
Back in June, Too Faced enlisted Jackie to help them expand its Born This Way Foundation. She helped create shades that were better-suited for people of color. This past summer, she spoke to HelloGiggles about how much thought she put into the range.
"I wanted to fill gaps, and I wanted to add shades at the end of the spectrum. I wanted to look at the line and see varying undertones," she said. "With darker-skinned people, I think a lot of times people forget that we have more undertones. We have olive tones, we have cool, and red tones, too. I wanted to address different shades on the deeper-dark spectrum."
https://www.instagram.com/p/BrVVD-GHzop
Jackie's drive to push the beauty industry is always a priority. Take a look at one of her videos, and you'll find her brutally honest yet informative reviews. Talking to WWD, the beauty guru makes it clear that she's always going to be "Jackie, Jackie, Jackie."
"There's a million tutorials on YouTube, but people are gonna come to you because you're you," she said. "Own it. Don't try to be something you're not and people will love you for that."
https://www.instagram.com/p/BpXmKf5Fm-g
If that isn't an example of being selflessly committed to pushing the beauty world forward and staying true to yourself, then we don't know what is.