J.Crew made a feminist tee for boys, and we can't believe we're saying this, but there's outrage
Last week, J.Crew debuted a super cute shirt in their children's collection — a graphic feminist T-shirt for boys that says "I am a feminist too." It's an adorable pink tee and we can't wait to start seeing the youth embrace a label that promotes gender equality. But sadly, not everyone agrees with that.
While we're screaming YAS at these feminist shirts, and so are the majority of J.Crew shoppers, we were shocked to find so many angry comments on J.Crew's Instagram photo of the shirt. Some commenters seem to think that feminism is a political ideology that they don't want to "push" on their children, and we're completely baffled how a human issue like equality could be a bad thing for a child to learn.
Below, a selection of the outrage.
"Stop imposing children ideologies, let them think as a child and let them take their own decisions parents PLEASE."
"Feminism is disgusting."
"Pretty gross pushing this on unknowing children rather then letting them decide for themselves their views as they age."
"Pure indoctrination. Never spending a dime on JCrew product again."
"Pushing political ideologies on children is wrong. Teach them to be free thinkers who critically analyze the world around them and explore what ideas they agree and disagree with."
This reminds us of the similar outrage J.Crew faced when then-creative director Jenna Lyons was seen painting her son's nails pink.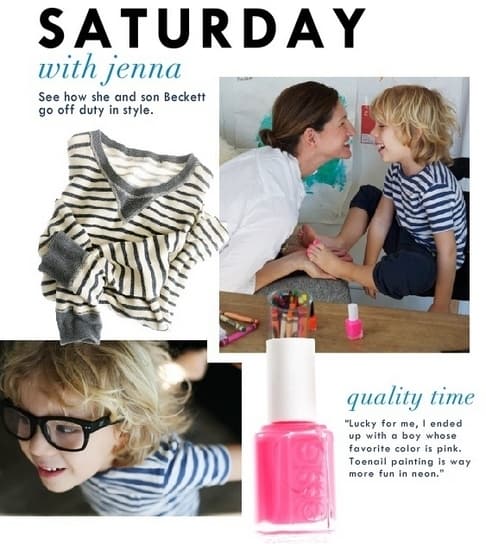 This photo appeared in a J.Crew catalog in 2011 and Fox News online (via Fashionista) dedicated an entire think-piece to it, calling it "a dramatic example of the way that our culture is being encouraged to abandon all trappings of gender identity [and] homogenizing males and females." Sure, Jan.
In light of the confusion and outrage surrounding the recent feminist graphic tee, let's take this opportunity to gently remind everyone what a feminist stands for. Nigerian author and activist Chimamanda Ngozi Adichie defines as feminist as "a person who believes in the social, political and economic equality of the sexes." So, if you think that raising your child to believe that all people are equal is "pushing a political agenda," then, woof.
The shirt retails for $29.50 and 10% of all proceeds go to Girl Up, a United Nations organization that supports girls in developing areas. The shirt is a collaboration with prinkshop, an apparel line that was created to make clothing for Barack Obama's first presidential campaign. You can shop this tee, here.