Ivanka Trump reportedly sent hundreds of government emails from a personal account—and it's a huge freaking deal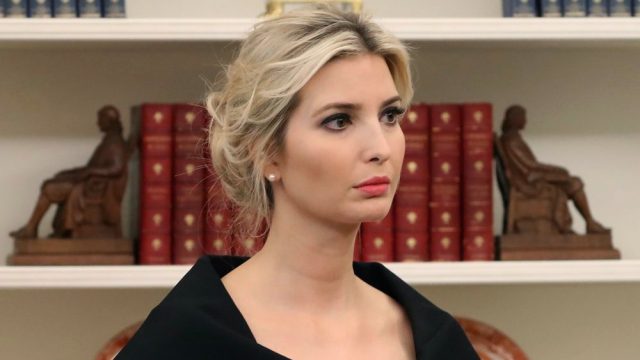 Anyone of voting age during the 2016 presidential election will undoubtedly recall the uproar surrounding Hillary Clinton's use of a personal email server during her time in office. At the time, then-presidential candidate Donald Trump called for Clinton to be arrested—even though the FBI ultimately found no evidence of wrongdoing. But it turns out Clinton isn't the only government official to do business through a personal account. In an ironic twist, Ivanka Trump has reportedly been using a personal (aka non-protected) email address to send government correspondence.
A November 19th report from The Washington Post reveals that in 2017, Ivanka Trump used a private account shared with her husband, Jared Kushner, to send hundreds of emails. Many of the messages she sent reportedly discussed official White House business, and The Post notes that several of these emails violate federal records rules. Anonymous sources told The Post that when Trump was questioned about her email practices, she said she wasn't aware of certain rules.
Peter Mirijanian, a spokesperson for Trump's lawyer, Abbe Lowell, told The Post that Trump mostly used her account "for logistics and scheduling concerning her family." He also noted that, unlike Clinton, the first daughter did not use a "private server in her home or office," and stated that her emails had been retained "in conformity with records preservation laws and rules."
But many see this as utterly hypocritical.
The discovery was prompted by the ethics organization American Oversight, which filed a Freedom of Information Act request in March 2017. The group has published several of Trump's emails on its website, and Austin Evers, Executive Director of the org, has issued the following statement:
"The president's family is not above the law, and there are serious questions that Congress should immediately investigate. Did Ivanka Trump turn over all of her emails for preservation as required by law? Was she sending classified information over a private system?"
On November 20th, American Oversight sent a letter to Congress calling for an investigation into Trump's emails. The New York Times notes that at least six Trump administration officials, including the first daughter, have been caught using personal email addresses to conduct business.
It's enraging to think that Ivanka Trump—or anyone within the current administration—is using a personal email account to conduct potentially classified government business after Donald Trump literally coined the term "lock her up" about Hillary Clinton for doing the same. We're eager to see how this situation unfolds.