Ivanka Trump and Chelsea Clinton think Malia Obama's personal life should stay out of the tabloids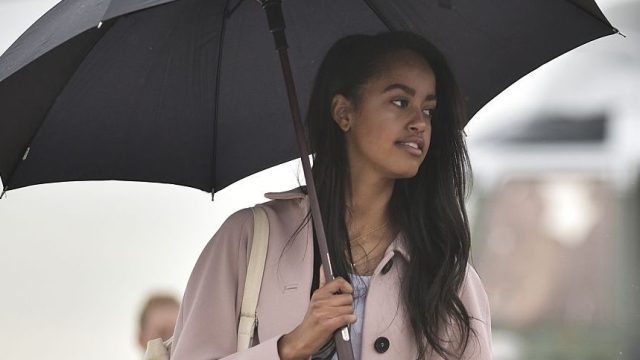 Malia Obama was just 10 years old when she moved into the White House. She spent most of her adolescent years in the spotlight and she grew up before our very eyes. Fast forward to this fall, where after taking some time off after high school, she began her freshman year at Harvard. But despite Obama's status as a private citizen now, some media outlets are making it difficult for her to just live her life. And Ivanka Trump and Chelsea Clinton are taking a stand.
Recently, Obama was caught on tape smoking, and the video was published by the conservative site The Daily Caller and other outlets, Yahoo! reports. Another video shows her kissing someone at a tailgate party for the annual Harvard-Yale football game. That video was published by TMZ. This is normal behavior for a 19-year-old college student — it is not news. Obama spent most of her young life in the spotlight and has definitely earned the right to be left alone. People are mad on her behalf.
Among them are Trump and Clinton, who came to Obama's defense. They both tweeted that the former first daughter's life needs to remain private, and doesn't belong in the tabloids. Clinton is known for defending people on Twitter, from Sean Spicer to her own mother. As a former president's daughter, she's well aware of how little privacy the Obama girls have been given. Trump is typically less quick to defend, but in this case, she acted first.
On Friday, November 24th, Trump called for Obama's privacy on Twitter.
Within the hour, Clinton echoed the sentiment.
Many agree with Trump and Clinton.
Of course, Twitter had jokes.
false
But seriously, aren't there more pressing things to worry about than Obama's freshman year at Harvard?
false
Others noted that perhaps Obama needs some new friends, alluding to the fact that these leaked videos could be coming from an inside source.
Whether or not Obama's "friends" are to blame, we definitely do not condone this kind of breach of privacy. false
Regardless of who Malia Obama's parents are, she deserves to live her life in privacy. She should be able to do as she pleases without her name trending.
Get it, girl. Live your life.