It's not surprising that Khloe and Kylie are being so low-key about their pregnancies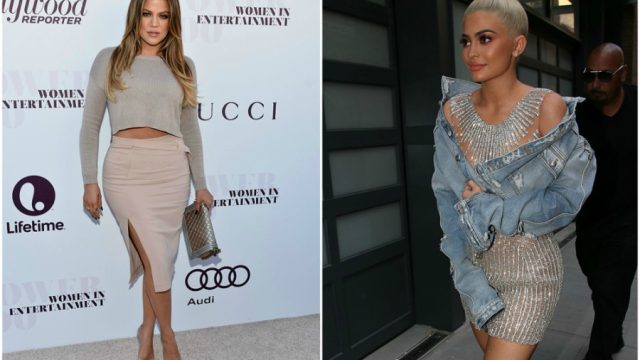 It's been a crazy busy season for Kardashian fans. Not only did Kim confirm that she and Kanye are expecting a baby girl via surrogate, but within days of each other in late September, both Kylie and Khloé were rumored to be pregnant, too. At this point, both have been silent, but if you think about it, it's not all that surprising that Khloé and Kylie haven't addressed pregnancy rumors. Although it often feels like the Kardashian and Jenner sisters are everywhere, when it comes to their personal lives, they do tend to take things slow.
Khloé, 33, is allegedly pregnant by boyfriend Tristan Thompson, whom she's been dating for over a year. Kylie, 20, is allegedly expecting a baby with boyfriend Travis Scott. Both women are said to be anywhere from three to five months along, depending on which anonymous sources and celeb gossip sites you read. Just after the rumors leaked about each woman, celebrity reporters were quick to hound Mama Kris for any kind of confirmation.
When they first caught up with her during Milan Fashion Week, Momager Jenner was totally cryptic. In an interview with New York Magazine the day after Kylie's pregnancy rumors almost broke the internet, Jenner said, "I just woke up this morning. She's not confirmed anything. I think it's kind of wild that everyone is just assuming that that's just happening."
When pressed on the issue about whether she knew the rumor was coming, Jenner responded, "Something happens every single day. You never know what is going to break at any moment."
On social media, many people initially joked that Jenner leaked the pregnancy rumors to coincide with the Keeping Up With The Kardashians 10-year anniversary or that she was generally just a puppet master controlling the lives of her daughters. Kris Jenner is a great businesswoman, for sure, but the family is also pretty loyal, and we can believe that she might occasionally want to give her daughters their privacy.
Likewise, sister Kim has also decided to be as private as possible when it comes to her own pregnancy news and her sisters' alleged news. While on The Ellen Degeneres Show this week, she skillfully avoided having to talk about anything baby-related unless it was her own news (though she did appear to accidentally spill the gender of her third child). Ellen approached with caution asking her about her "pregnant sisters" and Kim said, "Alright, I'm going to break it down. This is how we work in the family. When there are lots of rumors, we have this family group chat and we threaten each other's lives if we speak for the other one. For the safety of my life…"
Kim then added,
"We just decided there's so much that goes on that we respect each other's right to speak for themselves, so I will speak about myself. Hopefully they can come on and address whatever rumors you might have."
https://www.youtube.com/watch?v=3DpeJJm5C5k?feature=oembed
It was actually pretty classy. And it makes it pretty clear that there's nothing odd about not addressing their respective pregnancies in the media just yet. There are tons of celebrities who keep their baby announcements and news as quiet as possible all the time, so why should the Kardashians and Jenner sisters be any different?
Although the family has made its fortune by being so public and sharing pretty much everything with the public, whether it's on Snapchat or E!, some things are sacred. As soon as they confirm the news, it's out there in public, for everyone to comment on. And knowing just how badly some people treat the Kardashians — even if it's just in mean comments on their Instagram posts — holding onto the news and keeping it just for themselves for as long as possible is like a survival instinct, or at the very least, an act of self care.
And the truth is, the Kardashians and Jenner sisters have become increasingly private in the past year or so.
Maybe it's just that they're getting more savvy about what parts of their lives to share in public, or they're getting older, or Kim's robbery scared the crap out of them, but what we get from the Kardashians are carefully plucked tidbits. More often, if the news isn't attached in some way to one of their many businesses, they withhold it. On some level, thats always been true — you can't be a celebrity and not try to control the narrative about yourself at least sometimes — but it feels like they're more private than ever (even if they're more famous than ever before).
Khloé, for example, has kept her relationship with Thompson super private, even from her family. They had been dating a few months before they went public on Instagram or she even told her family about her new boo. Kim said in the Season 13 premiere, "So, I see pictures of Khloé with some NBA player, and even though I know not to believe everything on the internet, Khloé and an NBA player do go hand in hand. It's my sister. Of course, I want to know who she's hooking up with."
In response, Khloé said in a one-on-one interview that she was having fun "torturing" her sister by keeping her business to herself. And that seems to be exactly how she, and younger sis Kylie, are viewing their pregnancy rumors.
In a way, it feels like they're enjoying toying with us.
On Kylie's social media accounts at least, she's essentially trolling her fans by posting pics and using captions that fans are spending way too much time decoding. Remember when she and Khloé did that video last month and joked about the family having "so many babies"?
https://www.youtube.com/watch?v=m3PM9Q_Sd-s?feature=oembed
Since the rumors about their respective pregnancies have leaked, both Khloé and Kylie have made some public appearances that only serve as opportunities for fans to hunt for a baby bump, or any sign at all that they're pregnant. It's easy to imagine the two of them having a good laugh on that group chat about how closely everyone is following them.
The two have famously always gotten along, so it makes sense that Kylie might follow her big sister's lead in keeping news about her pregnancy and her relationship with Scott, which is also kind of new, on the DL. Not only are they keeping their private lives private, but it must be hilarious to have so much power over people.
There's sometimes a general assumption about the Kardashian/Jenner family that they owe all of us the most private details of their lives all the time. Yes, they are famous because of their reality show and their social media presence, but it's no mystery that the two sisters would want to keep the state of their uteruses private, if only to protect their relationships, their sanity, and have some quality family time before their baby pics are flying all over the internet. They're just people, after all.