It's looking like "Bachelor in Paradise's" Amanda Stanton and Josh Murray are trying to work things out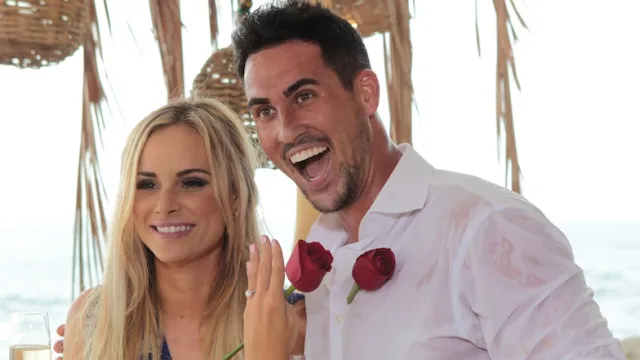 Okay, Bachelor Nation, it's been kind of a roller coaster of a year (Ben saying "I love you" to Jojo, Nick becoming The Bachelor, CHAD). And then of course there was the fact that Amanda Stanton and Josh Murray got engaged in Paradise, but broke up late last year.
All true Bachelor franchise fans will remember that there was a LOT of drama surrounding Josh and Amanda's initial pairing on Bachelor in Paradise. Josh (aka Nick's total formal rival) was rumored to be emotionally abusive, so Amanda's friends weren't exactly super supportive at the time. The season ended in an engagement for Josh and Amanda, and he even moved cities to live with her and her two kids.
However, the pair officially split before the holidays. Josh commented that, "We have similar things we want in life, but we are also very different on other important things as well." Amanda also commended that, "[…] at the end of the day, we're just very different people and things just didn't work out. Just normal relationship things."
HOWEVER, Josh and Amanda were spotted on a very PDA-filled dinner earlier this week in L.A, sparking questions about the status of their relationship. Josh addressed the dinner during a Facebook Live chat for ET, saying,
"Especially because it's a tough situation with the kids, and we don't want to fully dive into anything because we're thinking about them as well. [...] This is the first time I've seen her in awhile. There were conversations that needed to be had, and we had a great dinner. It was a good evening, we had a good time. Whenever we're together, I mean outside of the show and outside of the drama that's shown and that kind of stuff, it's always been a good relationship.
Sounds like they're taking things slowly and trying to approach everything in the most mature way possible, and that's something we can seriously get behind. Breakups are HARD. Add family and children into the mix, and it only gets more complicated. So zero judgements here.
We're hoping that Josh and Amanda continue to take things at their own pace and remain on good terms — whatever the ultimate outcome.