Italy wants the United Nations to name pizza a cultural landmark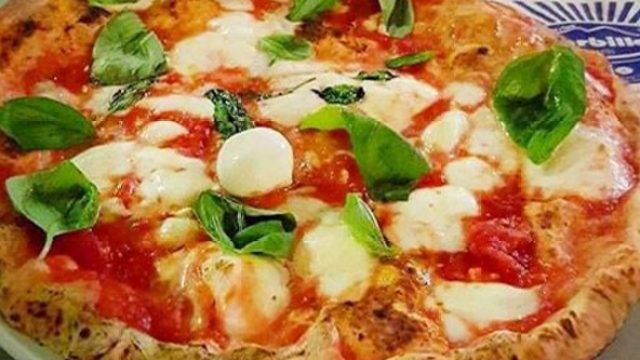 Everyone already loves pizza, but now Italy wants it to get even more recognition. They just nominated Neapolitan pizza to be in the running for UNESCO's Cultural Heritage List and even got over 850,000 signatures from people, from Naples to Japan.
Italy wants Neapolitan pizza to stand out from other types, like New York-style or Chicago's deep dish or the myriad of other kinds out there. This makes sense since Napoli is the birthplace of pizza and we probably all think of Italy when visions of pizza slices dance in our heads.
The process will take a year, though, and 200 countries will be involved, with no decision made until 2017. It would then be dubbed "The Traditional Art of Neapolitan Pizza Makers."
What even sets Neapolitan pizza apart?
The Association of the Real Neapolitan Pizza (best organization name ever, right?) can answer that question for us. "The dough consists of wheat flour (type 0 or 00, or a mixture of the two), compressed biologically produced yeast, sea salt and water," according the Guardian. "The dough must be kneaded by hand or with a low-speed mixer. After the rising process, the dough should be formed without the help of a rolling pin or other machine, and it may be no more than 3mm thick."
Mmm. Are you getting hungry reading this, or is it just me?
"Real Neapolitan pizza is limited to two types: marinara (tomato, oil, oregano and garlic) and margherita (tomato, oil, mozzarella or fior di latte, grated cheese and basil)," reported The Guardian.
Who knew? With the endless number of pizza toppings and types out there these days, there's something comforting about the traditional Neapolitan kind.
And, if you're wondering if food even be on a Cultural Heritage List—since it's not a place or landmark, the answer is yes. Other unique cultural practices that have been recognized include the Mongolian coaxing ritual for camels and the way to make ancient Georgian traditional Qvevri wine-making. Innnteresting.
So, if something's more untraditional, yet still important culturally, it can be nominated to be on the "Intangible Cultural Heritage" list. "The term 'cultural heritage' has changed content considerably in recent decades, partially owing to the instruments developed by UNESCO," according to the Intangible Cultural Heritage website. "Cultural heritage does not end at monuments and collections of objects. It also includes traditions or living expressions inherited from our ancestors and passed on to our descendants, such as oral traditions, performing arts, social practices, rituals, festive events, knowledge and practices concerning nature and the universe or the knowledge and skills to produce traditional crafts. While fragile, intangible cultural heritage is an important factor in maintaining cultural diversity in the face of growing globalization."
Neapolitan pizza would get my vote. In the meantime, though, brb—I need to go grab a slice of Neapolitan-esque American pizza. Yum. (Thank you, Naples!)