These "It"-inspired bath bombs will make sure you float, too
Happy Friday! Before you prepare to embark on a weekend full of relaxation, we urge you to please behold the terror of Pennywise, the creepy clown from It. More specifically, we had to let you know that there are now It-themed bath bombs in the world because anything is possible if you nightmare hard enough.
Regardless of how familiar you are with the insidious seduction techniques of Pennywise in It, it's likely these clown-themed bath bombs will send a shudder down your spine and cause you to "float away down here." But maybe, in this case, it'll be in a good way?!
Whether you're a brave soul willing to face your biggest fears in the bathtub, or you're one of those people who doesn't fear clowns, one thing is for sure: These are CREATIVE bath bombs.
Check out these It-inspired bath bombs, if you dare.
https://www.instagram.com/p/BYueaIGAgjX
If you're not sufficiently creeped out yet, here's one BONUS It-themed soap for the road!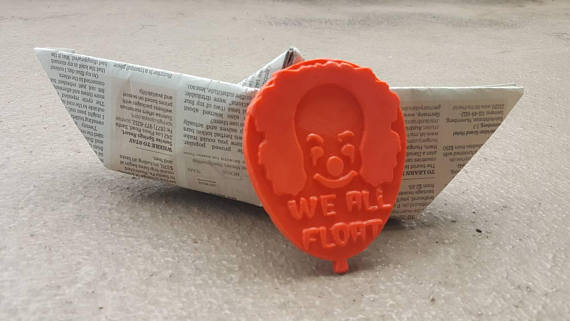 We all float down here, in the bathtub.