Issa Rae made history as the first Black woman to host the CFDA Awards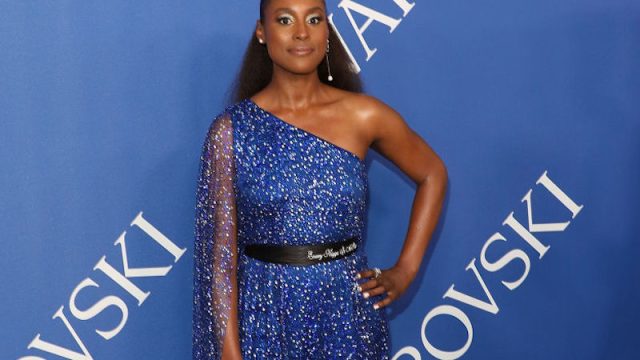 On the evening of June 4th, Insecure creator Issa Rae hosted the Council of Fashion Designers of America (CFDA) Awards at the Brooklyn Museum. She is the first Black woman — and first person of color, period — to do so in the awards show's nearly 40-year history. This was also the first time the show was held in Brooklyn, a borough that is historically a mecca for Black culture — specifically Black fashion. Rae took advantage of her role and of the setting by making a series of politically relevant statements.
Issa appeared on the red carpet in a custom, blue number that had the comfort of a pantsuit and the appearance of a gown. The Swarovski-studded outfit was designed by Kerby Jean-Raymond, the founder of the American label Pyer Moss. The brand shared via Twitter that Diana Ross's glitzy, Rome-bound style in the 1975 film Mahogany inspired Rae's ensemble.
The first major showstopper in Issa's reign at the CFDAs was the dress's belt, a black satin band that read "Every N*gga Is A Star," its stitching in reference to Boris Gardiner's song of the same name. The 1973 track — recently featured on the Moonlight soundtrack — honors the shining souls of every Black individual. The belt was especially fitting when you consider the comments that Issa Rae later made onstage.
https://twitter.com/udfredirect/status/1003794358032793601
The writer and actress used her hosting duties as an opportunity to discuss controversial rap artist Kanye West and his problematic statements in the media. And Issa did this in the presence of Kanye's wife (and CFDA Influencer of the Year), Kim Kardashian.
"I'm about as fashionable as Kanye is black ― only when it's convenient. That joke was my choice, just like slavery, Rae said.
Her remarks were a reference to West's headline-making claim that 400 years of slavery was a choice made by Black people. Rae's choice to speak on Kanye's recent antics was bold and commendable — especially since we live in a time when Kim Kardashian is quick to use her Twitter fingers to call out a Black person's viewpoint or fashion choice (for example, her recent dig at Rhymefest's "fake Yeezys" when Rhymefest shared his disappointment in Kanye West for abandoning Donda's House, the charity organization honoring the legacy of Kanye's late mother, Dr. Donda West).
When discussing Louis Vuitton menswear designer Virgil Abloh, Rae said the following:
"We've gone from having white designers study Black culture to make Black clothes for white people that are too expensive for Black people to buy, to [having] a Black man bringing Black culture to a historically white fashion house making clothes too expensive for everybody.
By acknowledging that white fashion designers have taken ideas from Black people, often without giving credit or regard, Rae created room for serious conversations about racism in fashion. Using her now-famous joking-but-not-really-joking approach to comedy, Issa Rae has once again stepped up as a voice for conscious Black people.