Issa Rae is engaged, and even Lawrence stans will be so happy for her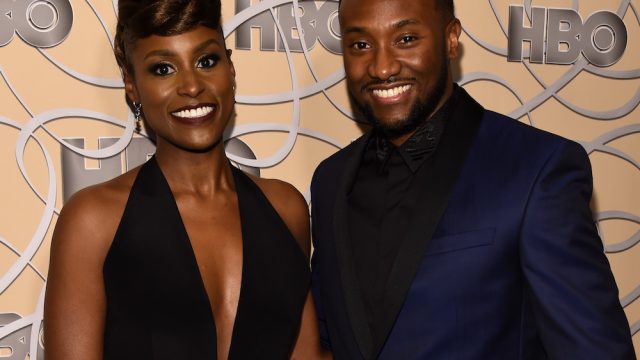 Insecure star and creator Issa Rae's dating life is so low-key that her recent engagement almost flew completely under the radar. Her co-stars Jay Ellis and Yvonne Orji collectively spilled the news at the 2019 NAACP Image Awards over the weekend—by straight-up telling Entertainment Tonight that Rae is engaged.
"We all found out in different ways because we're all on different text chains," Ellis said. "We talk at different times, so we all found out at different times in different ways.
Orji said she's "very excited" for her co-star and joked that all their friends had the same reaction, which was: "You out here in these streets getting married, boo!?"
People confirmed that her fiancé is Louis Diame, and although not much is known about her future husband, CertifiedPop.com claims he is a Senegalese businessman and that they've been together for more than 10 years. The internet first started to buzz about her engagement back in the beginning of March when she shared a photo with what appeared to be a giant engagement ring on her left hand.
https://www.instagram.com/p/Bul3ge4naDD
The ring surfaced again in the April issue of Essence (which she covered), so it was only a matter of time before word about her engagement actually got confirmed.
https://www.instagram.com/p/BvcHu5PnltC
For her part, Rae has neither confirmed nor denied the rumors, and when pressed about it on Monday, April 1st, 2019 on The View, she only said, "I have a lot of rings on my fingers."
Spoken like a true queen.