Insecure's Issa Rae was once told to fearlessly "be a bitch," and honestly, this is the best advice ever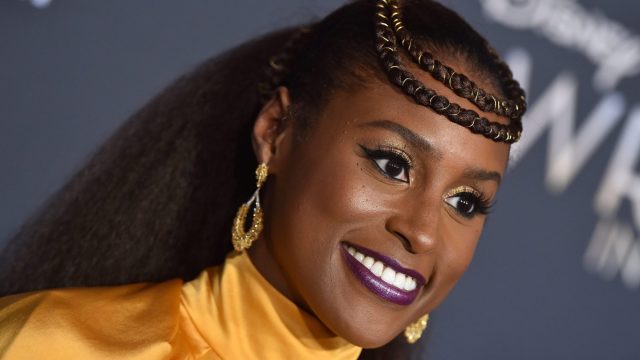 Since the premiere of her HBO series Insecure in 2016, Issa Rae has continually inspired us with her work. In June, she even made history as the first black woman to host the Council of Fashion Designers of America Awards. In short, Rae is killing it, and in a recent appearance on The Late Show with Stephen Colbert, she revealed that advice to fearlessly "be a bitch" empowered her as a woman working in the film industry.
Rae appeared on the August 9th episode of The Late Show to promote Season 3 of Insecure, which premieres August 12th. When host Stephen Colbert asked Rae if others ever approached her for advice, she admitted that they do, and that she's not sure what to say because "everybody's journey is different." But Rae added that she seeks advice all the time from others she admires like Shonda Rhimes, Ava DuVernay, and Debbie Allen. (We stan a queen who turns to queens.)
Rae also told Colbert that in the past she has struggled with being "afraid of upsetting people." She spoke about the pressures she has faced as a woman, particularly a woman of color, to not to be too "difficult"—which is relatable for many, many women.
"As a showrunner, being in the industry, just as a woman, once you're labeled like difficult, your career is kinda over, cuz then it's like everybody's saying, 'Oh she's hard to work with, beware,' and then you don't get many chances to fail," Rae told Colbert.
So what advice helped Rae overcome these fears?
"The advice from them was just 'Don't be afraid to be a bitch," she told Colbert, as the audience cheered.
https://www.youtube.com/watch?v=z6L1i4Ofoz0?feature=oembed
Sometimes, we all need a reminder that it's okay to voice and stand by our opinions. Rae's favorite piece of advice is spot-on, and one we'll be carrying with us in the future.