An Israeli designer was asked to sketch a wedding dress for Meghan Markle, and the sketches have been leaked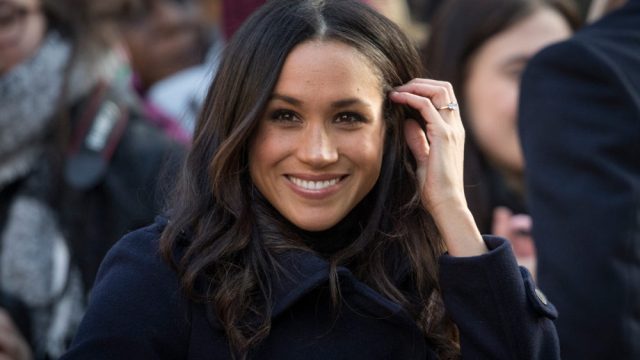 As we patiently await more details on the upcoming royal wedding, we have one piece of exciting information: An Israeli designer confirmed she sent a sketch for Meghan Markle's wedding dress to the actress. However, the sketches were also reportedly leaked.
Israeli bridal designer Inbal Dror had previously confirmed to People.com that she sent a wedding dress sketch to Markle directly, with a spokesperson telling the magazine, "We received a request from the royal family to send a sketch. Unfortunately it's a secret and I can't give more details […]."
Dror is already celeb-approved, having designed a gorgeous gown for Beyoncé for the 2016 Grammys. No word on what Markle asked for, but if Dror's designs are Queen Bey approved, they've also got our stamp of approval, too.
Dror specializes in elaborate, whimsical bridal looks, but we have a feeling that Markle's wedding dress will be slightly more demure…and it'll most definitely feature sleeves. It's tradition for royal brides to rock sleeves on their big day (see: Kate Middleton and Princess Diana's equally iconic wedding gowns), and we're almost certain Markle will follow suite (while likely infusing her laid back-yet-classic California girl style). Or perhaps she'll opt for something super simple, like the wedding dress Carolyn Bassette-Kennedy wore to her wedding to John F. Kennedy Jr.
TMZ confirms that all three sketches feature sleeves, tight bodices, elaborate beadwork, and a high neck.
As for the designer herself, Dror studied design at the Shenkar Fashion Academy in Ramat Gan, Israel, before working with designer Roberto Cavalli in Milan, Italy for four years, according to the same People.com article. In 2010, she moved back home to Israel to start her own bridal label, and her gowns are now available around the world, including in the U.S. and in one boutique in England.
We absolutely can't wait to see the final gown, and we have a feeling Dror dresses are about to be in very high demand. You can check out the sketches here.