Iskra Lawrence undresses to redefine what it means to be a supermodel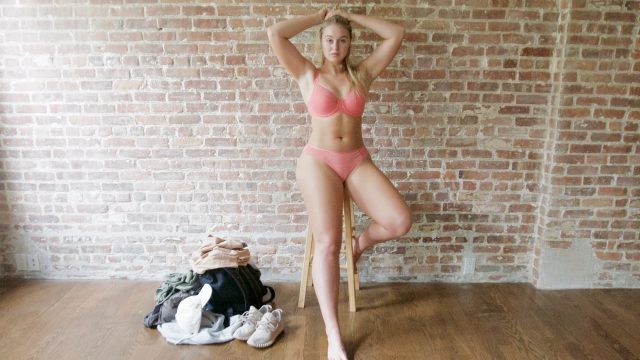 Iskra Lawrence – the impossibly gorgeous supermodel and face of Aerie's body-positive campaign – is about to make your day. For StyleLikeU's "What's Underneath" project, Iskra spends over 12 minutes speaking candidly about body image, her modeling career, and the growth of her self-confidence over the years.
In the meantime, she undresses and shows the world what her beautiful body looks like — untouched, totally natural:
https://www.instagram.com/p/BGADUKcLk7y
Iskra talks about what it was like being a young teenager who was interested in modeling, but highly insecure about her skin and her body type. As a former swimmer, Lawrence said she used to slather on makeup to cover up her acne – even when she headed to swimming practice.
"For so many years, I thought I wasn't good enough."
When she got started in the modeling world of London, Iskra recalls all the diets she tried to shrink herself. From the maple syrup, Beyonce diet to Atkins, the young woman was eating with the sole purpose of reducing her hip size by two inches. There was even one point when, due to her lack of resources, she ate nothing but ham for weeks on end. Iskra would count her calories incessantly and make sure to workout, so she could burn more than what she was eating. This all occurred when she was only 15 years old.
Even after being signed onto a plus-size modeling agency, Iskra still had problems with self-love and acceptance, especially because of all the photoshopping that was being conducted after her shoots. This caused Iskra to wonder, countless times, why her body needed to be altered in such a drastic way.
"The cellulite's been retouched, your waist's been slimmed in. All of these things have been done to you. In your head, you then think, 'That's a flaw, that's bad, wow I now have to attain to this perfect me that I'm not even. I'm not even that perfect me.'"
With this in mind, that's exactly why the model wanted to jump into the Aerie lingerie campaign, since her body is being shown exactly the way it is. This was so important to Iskra, not only career-wise, but on a personal level.
Iskra also discusses the fact she's stuck in this in-between space where she's not a supermodel and not the kind of big-time celebrity who can demand not to be photoshopped – but at least she can choose not to Photoshop herself on her own platforms. After making this statement, the person behind the camera asserts, "Can I just say, you are a supermodel."
https://www.instagram.com/p/BIApZ4WByGI
There's a moment of silence when you can see Iskra processing this compliment (this truth, really). She tears up, and in a moment of pure vulnerability, she looks back and says,
"I never thought I could be one, being me."
Iskra considers it her life's work to change the way girls think about their bodies and their self-worth. She explains, "I want education in schools, I want to be able to give a voice to all those young girls, and for them to see me and realize that, yeah, they don't need to attain to that perfection."
Powerful stuff from a powerful woman. We're on board with you, Iskra, and for the record, you are 100% a supermodel. To see what we're taking about, you can watch the entire video below.