Is synchronized skating an Olympic sport? Not yet, but it could be in 2022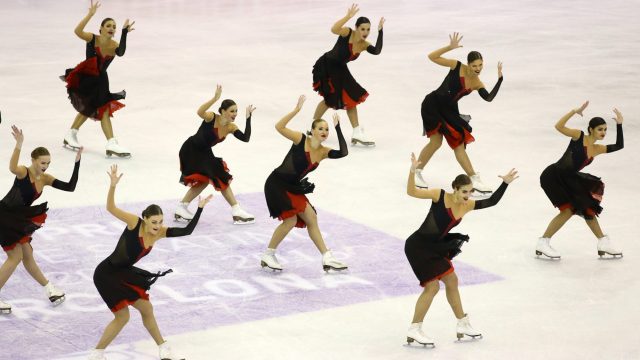 The 2018 Olympics in PyeongChang, South Korea, have put quite a few athletes — and the sports they've dedicated their lives to — on our radar. Yes, we're still obsessed with figure skating. And we have a newfound appreciation for the luge, of course. (And maybe, just maybe, we're starting to understand how to play curling.) But there's one increasingly popular sport currently missing from the Winter Olympics. And that's synchronized skating.
Synchronized skating, originally called precision skating, was established as a sport in the 1950s. Though it has a long history of dedicated athletes and fans, it's still struggling to be recognized as an Olympic sport. Overseen by the U.S. Figure Skating organization, the sport features teams of anywhere from eight to 16 skaters. The athletes compete together on the ice at the same time, executing the same moves in (hopefully) perfect harmony.
To put that in perspective, imagine a dozen Nathan Chens doing their thing out on the ice all at once. It's total #squadgoals, but it also sounds majorly intense!
The numerous moving parts involved with a team sport of this magnitude makes performances more complicated and challenging. Synchronized skating requires countless hours of training and working on one's speed, coordination, and strength in order to be the best. If that doesn't sound like an Olympic-caliber sport, we don't know what does.
https://www.youtube.com/watch?v=g8EyTNirhhs?feature=oembed
Just like any popular sport, synchronized skating is a global affair. Each year, the United States participates in international synchronized skating competitions comparable to the World Figure Skating Championships.
So, with all these similarities to Olympic-certified sports, why isn't synchronized skating a part of the games? It's not for lack of trying.
Synchronized skating officials have repeatedly asked for the sport to be added to the Olympics. But the International Olympic Committee has rejected every request, the most recent of which was made in 2015. While the International Skating Union is still fighting for its inclusion, there's a long way to go before the 2022 Winter Olympics in Beijing, China.
It's not known for sure why the IOC rejects the sport, but money is a definite issue when talking about synchronized skating. With each team being so large, host cities would need to house hundreds of extra athletes, coaches, and staff, which would significantly raise the cost of putting on the Olympics.
You won't see synchronized skating at this year's Winter Olympics, but there are still ways to check it out. The 2018 U.S. Synchronized Skating Championships run from February 22nd to February 24th in Portland, Oregon, so we'll soon have a new batch of ice-skating routines to obsess over on YouTube.
If you ask us, this sport looks way too awesome for the Olympics not to include it. We hope to see it in Beijing in 2022!