We got the 411 on why more women are shaving their faces for better skin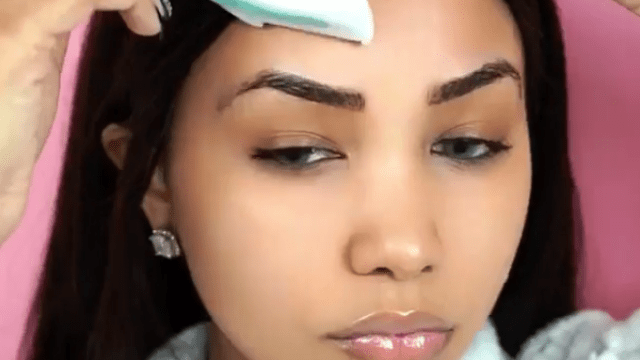 It's normal for people of all genders to have hair on their faces. While some might just have a few spare hairs to pluck out, others regularly deal with baby mustaches. With the growing trend of women shaving their faces, it's natural to wonder how safe is it to shave our faces?
The primary concerns that most women and femme-identifying people have is whether they'll end up with the same five o' clock shadow, fast growing stubble, and bloody cuts that we see on men out in the world. We'll stick to our painful facial waxing routines, and weeping sessions while plucking individual lip hairs if shaving means a world of bloody shadows.
But, if facial shaving not only removes hair but gives the same skin-smoothing benefits that some women claim, then we're all on board. In order to get an expert's opinion, we spoke with Dara Levy, the founder of Dermaflash, a shaving device intended to gently exfoliate skin after removing hair.
https://www.instagram.com/p/BPsQZL_h79d
She shared how her inspiration for creating an at-home shaving system was inspired by dermaplaning, which is a professional exfoliation method that also removes peach fuzz.
She said:
"I owned a high-end med spa where our signature treatment was dermaplaning. I was always amazed by not only how radiant my clients looked immediately after treatment, but also by how noticeably confident they were. One day, I had an epiphany and realized that an at-home dermaplaning solution did not exist. I immediately got to work and created Dermaflash."
https://www.instagram.com/p/BO2LAyEhzCy
You may be wondering — wait, is this facial shaving or not? During her conversation with HelloGiggles, Dara clarified that due to different hormone levels, the texture of men and women's facial hair varies, which makes the shaving process different.
She said:
"Men shave, women flash: We are not shaving — we are exfoliating with the added benefit of removing peach fuzz. Men grow terminal hair, which is like a piece of copper wire. Women grow vellus hair, which is light and fluffy. Men have to lubricate their beards to make them receptive to removal. DERMAFLASH is performed on a perfectly dry canvas. The blade in our Edge was designed specifically for the delicate skin on a woman's face. It is counter-intuitive for a woman to use a product designed for the tough skin and hair on a man's face.  The blades in a man's razor are sharp and much too harsh for a woman."
https://www.instagram.com/p/BQf9wdQBmS_
Due to the gentler design of the blades, Dermaflash, and other razors intended for women's skin can remove hair without creating cuts and stubble. Instead, the hopeful result is a two-in-one hair removal and exfoliation treatment. So after you shave, have your moisturizer ready to rub in!
Dara shared her thoughts with HelloGiggles about how flashing (or shaving) can even help makeup stay in place:
"Our skin cells turn over every 28 days and creates a build up that lies on the skin's surface, this build-up acts as a barrier to product penetration and impedes makeup from lying perfectly on the face. Dermaflash removes dead skin cells, built up debris, and peach fuzz and instantly reveals smooth, radiant, camera-ready skin."
Apparently, the act of gently flashing your facial skin can also help improve circulation, which will bring more color into your skin and a natural flow. Dara shared that she designed her at-home shaving system with this in mind:
"Dermaflash is powered by a subtle sonic vibration, which amps up micro-circulation, and provides an elegant and comfortable treatment."
https://www.instagram.com/p/BQ6YrFGFNUC
No worries though if you can't afford Dermaflash, the Japanese style razors are affordable and also safe for your skin!