Is it ethical going to Coachella? Owner Philip Anschultz donated almost $200,000 to anti-LGBT politicians this year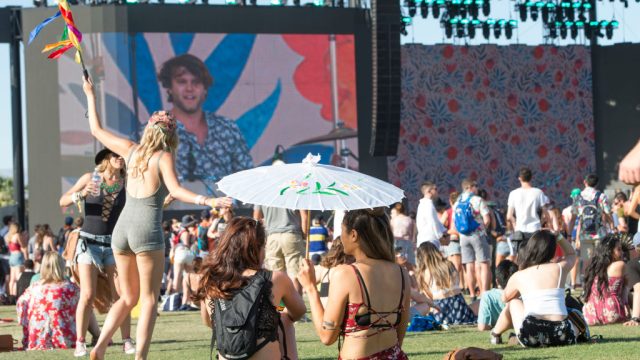 When you think about buying tickets to Coachella 2018, the only real worry on your mind should be about where the hell you can go to the bathroom and if you can find weekend passes on eBay once the festival's sold out. With a lineup of amazing artists like Beyoncé, SZA, Tyler, the Creator, and Cardi B getting top billing this year, the last thing you should be fretting about is whether or not it's ethical to go to Coachella, or if it ever has been.
Deciding between our personal politics and Beyoncé is something we'd never thought we'd have to do, but here we are. What a time to be alive.
Coachella is owned by billionaire Philip Anschutz and funded by the Anschutz Entertainment Group and AEG Live, which are part of the Anschutz Foundation. If you live in Los Angeles or are a fan of music and sports, you've probably supported the Anschutz Foundation in some way, seeing as AEG is the number two live promoter in the U.S., according to Billboard. It's responsible for the Staples Center, in addition to organizing other music festivals like Stagecoach, Panorama, Firefly, Desert Trip, along with a host of arenas and stadiums on the West Coast.
Last year, it was revealed that the Anschutz Foundation had donated over $200,000 between 2010 and 2013 to the Alliance Defending Freedom, the National Christian Foundation, and the Family Research Council, all of which are anti-LGBTQ organizations and even fund other anti-LGBTQ organizations all over the world.
https://twitter.com/udfredirect/status/817277777971965952
According to Snopes, which combed through the tax filings, these donations were made, despite the fact Anschutz denied it. According to Rolling Stone, Anschutz said:
"Recent claims published in the media that I am anti-LGBTQ are nothing more than fake news — it is all garbage/ I unequivocally support the rights of all people without regard to sexual orientation. We are fortunate to employ a wealth of diverse individuals throughout our family of companies, all of whom are important to us – the only criteria on which they are judged is the quality of their job performance; we do not tolerate discrimination in any form.
He added that when it came to his attention that he funding groups that pushed for anti-sodomy laws and described being gay as an "unhealthy lifestyle," the foundation stopped donating to them. But it doesn't stop there. Given the popularity of the festival, reporters, of course, combed through other filings for 2017 and found that although his foundation isn't donating to anti-LGBTQ groups, it did make huge donations to anti-LGBTQ, pro-gun, Republican candidates this year. false
Fader was the first to report that the Coachella owner donated $5,400 to Colorado Sen. Cory Gardner, a pro-gun senator who didn't want to "politicize" the Las Vegas shooting; $2,700 to Colorado Rep. Scott Tipton, who actively opposes same sex marriage and abortion rights; and $5,400 to Colorado Rep. Mike Coffman, who was part of the birther movement against Barack Obama and opposes abortion. Anschutz also donated to other conservative politicians, including Paul Ryan, and gave $138,000 to the National Republican Senate Committee, which is dedicated to increasing the number of Republicans in Congress.
Some people might shrug and assume that Anschutz is just doing what billionaires do: Protecting his money and supporting politicians who can help him do that, even if it means they're also supporting votes against human and civil rights. But there are billionaires who don't do that, so we can't give Anschutz a pass because he has an actual ton of money. Just because it's normal for rich, old white men to support bigoted conservatives, that doesn't make it excusable for each of them to do it individually.
https://twitter.com/udfredirect/status/948548902273372163
Obviously, Anschutz values the cold, hard cash of people who don't share his views, since his festivals feature artists who are very outspoken about LGBTQ rights, women's rights, and even openly oppose Trump and the GOP. So it's not like he's censoring opposing views. He's just funding them in Washington D.C.! (No, that's not really any better.)
So is it ethical to go Coachella and enjoy it, or should we all put away our flower crowns and boycott festivals put on by billionaires who are actively helping to make the world a worse place?
In short, it's a personal choice and depends on how live your politics. But know that if you are buying passes that cost hundreds of dollars, you are actively filling the coffers of a guy who uses that money to fund conservative politicians taking away the rights of LGBTQ people, women, and marginalized communities. You have to face that. We are way past the point of getting to hide from what our money is supporting. false
And then there's an argument that not going means that artists don't get their payday and we should of course support the arts. While we have trouble imagining that Queen Bey will miss a paycheck, Coachella is a career-making event for other artists on those smaller stages or event organizers for whom the event is a huge break. Hopefully, the bigger artists will be better when they use the platform on those two weekends in April to promote acceptance and love instead of hate, and when they negotiate with festival organizers next year. They definitely have more power than the average fan who wants to buy a ticket to see their faves. false
Last year, there was a petition for artists to donate the money they made from Coachella to pro-LGBTQ groups to counter the Anschutz Foundation. Whether you're going to Coachella or not, spreading the word about Anschutz' politics, signing the petition (and holding artists accountable), donating to ethical organizations yourself is a way to still go check out SZA and feel like you're on the right side of history.
Urging artists to not perform at all or start their own music festival, might feel like a pipe dream, but social media and the power of your dollars can go pretty far. Be loud about it. Although Anschutz moved on to supporting politicians, the foundation did stop donating to those conservative organizations after it "came to their attention." Maybe festival goers, and the artists who bring them in, can push him even farther.
If you're at the festival and see organizations and non-profits taking names for their newsletters and selling things for donations, support them. It's the least you can do if you plan on attending despite Anschutz' politics. (And hey, we get it — Beyoncé is a hard act to say no to.)