94-year-old fashion goddess Iris Apfel now has her own emoji line
For those who don't know Iris Apfel, she's a bit of a legend in the fashion, interior design and business worlds. There aren't many people who have decorated the interior of multiple presidents' quarters at The White House and starred in their own documentary, but Apfel is a special case!
Oh yeah, and she's 94-years-old and still going strong.
In fact to celebrate her upcoming 95th birthday in August, it's only fitting that Apfel be allowed to create custom emojis for every occasion
You know, like an emoji of Iris Apfel winking, wearing her signature huge round sunglasses, driving a flashy pink car, shopping, you name it! There's an emoji for it.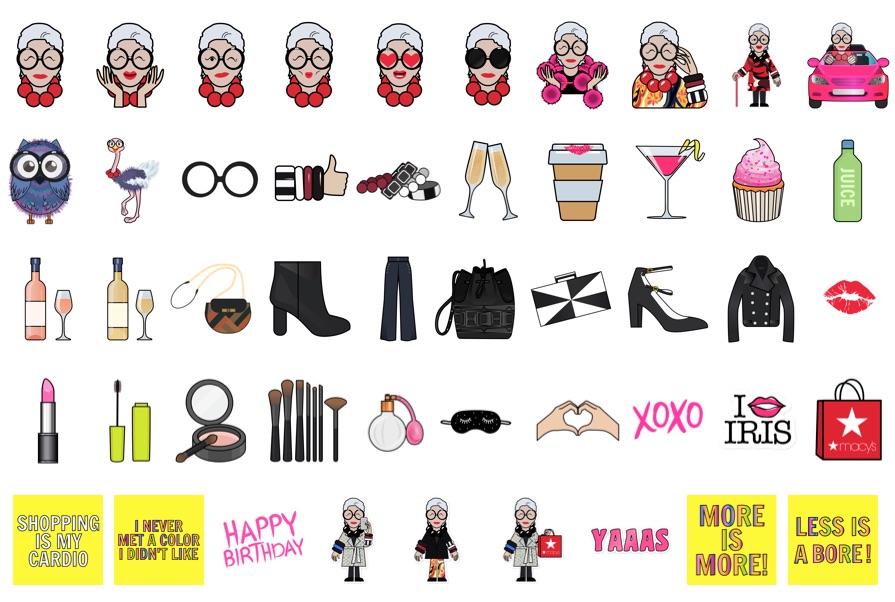 In case you didn't read the fine print, there are emojis that say these words:
Shopping is my cardio
Less is a bore!
I never met a color I didn't like
More is more!
They are 100% amazing. 
But wait, it gets better. Apfel barely knows what an emoji is! "I'm a little old for emojis, and I didn't know what they were. But everyone seems to like them, and I want everyone to have a good time. If my face makes people happy, I'm all for it."
Nancy Slavin is the senior vice president of Macy's Merchandising Group, and she had a few words to say about Apfel. "She's an icon whose appeal spans multiple generations, and we see these emojis as a fun way to amplify the campaign through mobile first. Her fans are going to go crazy!"
Aaaaaaaand so are we. To the iTunes store everybody!