Iowa passed the most restrictive abortion bill in the U.S., and here are the scary details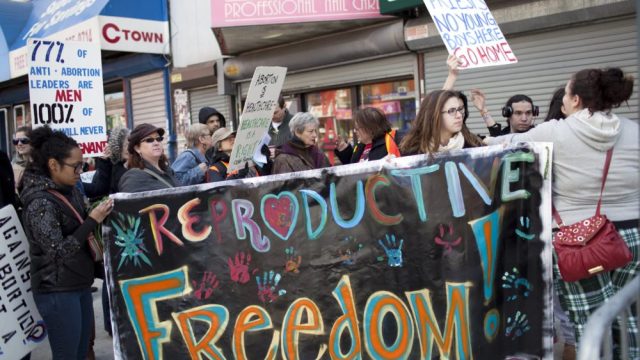 UPDATE May 4th, 2018: Iowa Gov. Kim Reynolds (R) signed the "heartbeat bill" on Friday, effectively ending abortion in the state after six weeks; that's often before a woman even knows she is pregnant. Said Reynolds in a statement, "I understand and anticipate that this will likely be challenged in court. However, this is bigger than just a law. This is about life." She continued, "It is immoral to stop an innocent beating heart… my faith leads me to protect every Iowan, no matter how small."
The ACLU immediately announced plans to sue, saying on Twitter, "We will be suing with [Planned Parenthood Action] to block the law from taking effect.Previously:
In the 45 years since the landmark court case Roe v. Wade, reproductive rights have continuously been challenged in the United States. It has been less than two months, for example, since Mississippi passed America's harshest abortion law, which banned the procedure after 15 weeks of pregnancy — even in cases of rape or incest. But now, a new Iowa abortion bill could overtake Mississippi's law as the country's strictest abortion legislation.
The Iowa abortion bill, also called the "heartbeat bill," would make abortion illegal after a fetal heartbeat can be detected — around six weeks into a pregnancy. Iowa's conservative-led House of Representatives passed the bill early this morning, May 2nd, and it will now be sent to Gov. Kim Reynolds to be signed. Reynolds, a Republican, has not publicly indicated whether or not she will sign the legislation, but her press secretary, Brenna Smith, told NBC that the governor was "100 percent pro-life."
Unlike the recently passed Mississippi law, this new legislation does allow exceptions if the mother reports that she has been raped.
Previous attempts to pass similar heartbeat bills have failed. When Ohio state legislators attempted to pass similar regulations, Governor John Kasich vetoed the bill. And although a national "Heartbeat Protection Act" was introduced to Congress in January 2017, so far no action has been taken to vote on that legislation. This means it's possible that the Iowa abortion bill will face some obstacles to its passage.
But according to the Des Moines Register, some Republicans behind the Iowa legislation are hoping that it will be challenged in the Supreme Court, so they can have a shot at overturning Roe v. Wade. When presenting the bill, State Representative Shannon Lundgren reportedly said, "It is time for the Supreme Court to weigh in on the issue of life."
According to the American Pregnancy Association, most people find out they are pregnant at about four to seven weeks into the pregnancy. This means that heartbeat bills ban abortion before many women even know they're pregnant, effectively erasing all choice in the matter. On top of this, abortion bans can lead to women seeking to terminate pregnancies illegally, which could prove dangerous and even life-threatening. If Reynolds signs this bill into law, it will be a huge setback for reproductive rights. Women deserve to make their own decisions about their bodies, and we stand with the women of Iowa and their right to choose.