These intricate, mind-melding drawings are making us question reality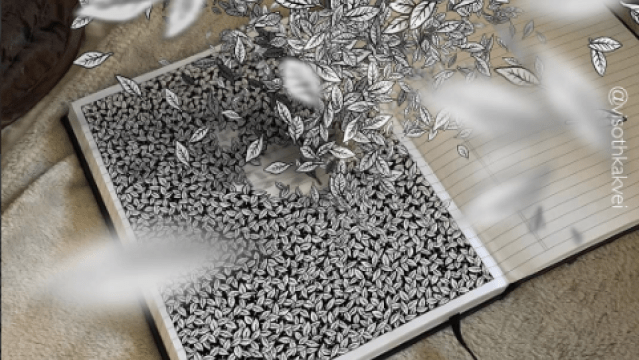 We just came across some artwork that's bound to take you to another dimension. And we're totally not over-exaggerating. Artist Visoth Kakvei is becoming an Instagram favorite thanks to his 2-dimensional drawings. With just a pen, this visionary can turn an ordinary piece of paper into something that should only be able to come to life in your dreams.
Kakvei's artwork spans from flying magical fish to holes spanning deep into another world. And all of his 2-D art is so out of this world that you'll have to see it to believe it. Just how he does it remains to be seen. But we kind of don't want him to spill all of his secrets anyway. There's way more left to the imagination that way.
One look at these 2-D drawings from illustrator Visoth Kakvei will have you asking "how, Sway?"
And we're not kidding. In an interview with Cosmopolitan, Kakvei explained just how he got his start.
"At first, I started Instagram just to share personal stuff and pictures," Kakvei said. "And then I found it's pretty cool if I [share] my drawings."
According to Kakvei, he was into art as a kid, and picked his hobby back up within the last 5 years. And if you're looking for advice on how to get your hands dirty in the 2-D artist realm, Kakvei says that it's all about "how talented, passionate, and patient you are." It seems simple, but it all looks so complicated.
Kakvei's drawings have lured in close to 1 million followers, and for good reason. Everything is so cool and trippy.
And if you're wondering just how Kakvei does it, check out these sped up videos of him working below!
His artistry is so amazing to see in action. And our minds are completely blown right now.