These intimate photos of twin sisters are challenging stereotypes about black womanhood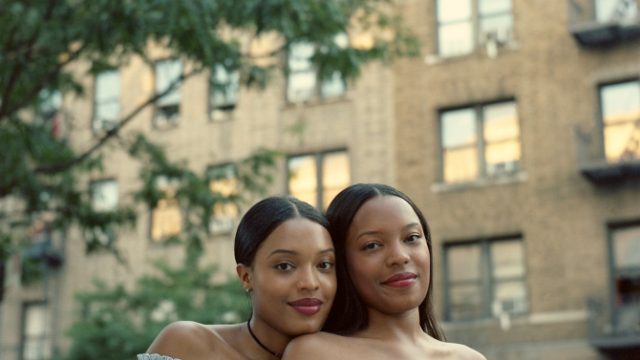 Today in news we desperately need: A photographer is challenging stereotypical views about black women and sisterhood, one portrait at a time. You see, slavery, racism, and pop culture have all contributed and continue to perpetuate three main tropes about African American women: the mammy; the sapphire (aka the angry black woman); and the jezebel. And Miranda Barnes has had enough.
Before we get to her powerful photos, though, let's break down the stereotypes one at a time. On one side, we have the mammy — a desexualized, usually overweight, caregiver type. Think of Viola Davis in the movie Fences — that's your mammy. Now, remember the uproar How to Get Away With Murder caused when Davis' character actually had a sex life? That's because many have a hard time seeing black women as whole beings outside of limited tropes.
On the opposite side, there's the jezebel — often written as a hyper-sexualized temptress (in an attempt to justify the systematic rape experienced by black women).
And finally, there's the newer, more popular angry black woman stereotype. The voices of black women are not being centered, to the point where many feel the need to speak louder just to express themselves, just to be heard — and still no one listens. Instead these women are quickly labeled angry and told to quiet down.
Needless to say, these ridiculous typecasts fail to represent real black women in all their complexity, strength, and raw vulnerability.
With her latest project, Doubles, Barnes is hoping to challenge these stereotypes while highlighting black sisterhood by taking pictures of black twins.
https://www.instagram.com/p/BKBlkqcgfbe
While undoing stereotypes to celebrate black womanhood, friendship, and sisterhood is no easy task — it is necessary work. The 22-year-old Brooklyn native says, "When we talk about black women being celebrated for being caring and loving, it's always in a mothering way but never in a sisterhood way."
Barnes said her grandmother was a twin, but her family only has a few photos of the pair together, so she pursued this project as a way to reconnect with her family history and celebrate the sisterhood of black women — sisters by blood or shared experience.
"For me, 'Doubles' represents the idea that black women can be more. Doctors, construction workers — even just successful business women. I think it's important to recognize how the media and stereotypes portray us," she says.
https://www.instagram.com/p/BV0k0WgjRK6
https://www.instagram.com/p/BI-xXT5g_ZE
Seriously, could these two be any cuter?
https://www.instagram.com/p/BSuLU_2jW0z
When we asked Barnes what being a black woman means to her, she said,
"The self discovery I've found as a black woman has been some of the most rewarding moments of my young adult life. Being a black woman also means that you're constantly subjected [to] and aware of stereotypes. Simply put, I hope 'Doubles' can make black women feel good about themselves and the bond between us. I also hope that non-black women will realize the importance behind representation and who is more subjected to being left out."
We wholeheartedly support this and hope mainstream media will catch on sooner rather than later.