The Indie Beauty Expo co-founder says quinoa will be the next big beauty trend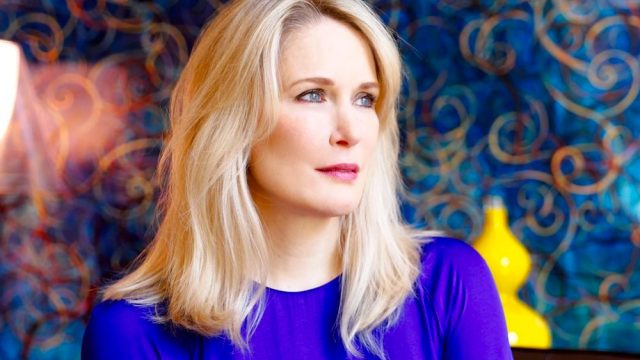 Imagine yourself wandering into a gigantic warehouse in SoHo, only to find yourself inside a neon-lit bonified beauty playground where 220 indie beauty brands are showcasing their products and doling out generous samples. This is exactly what the 2017 Indie Beauty Expo in NYC felt like, except with an added dose of comfort amidst all the perfumed hustle and bustle.
After we spent a few hours scouting out a generous handful of inventive indie beauty brands showing off the goods, HelloGiggles spoke with the Indie Beauty Expo co- founder Jillian Wright, who spent years working in the beauty industry as an esthetician before launching her own Jillian Wright skin care line.
Since she first co-founded the Indie Beauty Expo in 2015, she's been hard at work giving platforms to indie beauty brands across the globe.
https://www.instagram.com/p/BRYveJSlhTz
HelloGiggles: What does your process of picking the brands that showcase at the expo involve?
Jillian Wright: In the beginning, I was really doing a lot flirting on Instagram, saying 'Hey, why don't you check out our Instagram. Email me.' Now we've grown to the point where I have a team and I focus on press and buyers. I get to know the brands intimately so I can share their stories. There are definitely brands that I gravitate towards because I have connections that I can't explain sometimes. There's something for everybody. Even though I have my own taste, that doesn't mean it's your taste.
https://www.instagram.com/p/BVIauyVF1nY
HG: Do you remember the first indie beauty brand you fell in love with personally?
JW: Au Naturale Cosmetics, they've done every single show with us. I love Ashley, I love her mission for clean beauty. I feel like she's very honest and she's the real deal. Pinch of Colour is another one that has been a huge success, she literally just had prototypes — not even samples yet — at our LA show in 2016, and now she's at Anthropologie.
https://www.instagram.com/p/BYLSsDoF880
HG: You started in 2015, and it's already grown a lot. Indie beauty is becoming more popular in general, what do you think draws people to it?
JW: I think the new way of shopping and the new way of connecting is definitely through social media. Whether you're connecting with your friends or other people that might have an opinion about a product you want to try, or your philosophy is changing and growing — you want better-made products. I feel like the consumer is more vindicated, educated, and they ask a lot of questions — and indie beauty is transparent. People are very concerned about the environment and the way they eat and the way they throw things away, beauty fits into all of that, and because there are better beauty options at every price point, indie beauty is for everybody.
https://www.instagram.com/p/BYMASPoF4ty
HG: Do you have advice for entrepreneurs who want to break into the beauty world?
JW: I would tell them to come to our Connect Indie, which is the day before the expo. That will allow you to meet with other brand founders and go to presentations and classes. It's all relevant information to beauty entrepreneurs. The majority of people that are there, are either exhibiting brands or are brands that want to break into the industry. The more you know and the more you ask questions, and the more people you meet in this space, the better-made products you will come up with individually.
https://www.instagram.com/p/BYJa6PAlRyM
HG: What trends and ingredients do you see getting bigger in the coming year?
JW: Well I see that quinoa is an interesting ingredient being used by two brands here — one is called Zue Beauty, and they use quinoa, and also harvest the quinoa from Indigenous people in Peru. They're the real deal. We have another brand called Aypa and they use quinoa, blue corn, and also Indigenous ingredients from Peru. I see them more and more in the spa environment.
My ingredient predictions are quinoa, and — I believe this is going to happen, I will put it in the universe — Middle Eastern indie brands. We have a girl, she's Persian, and she came out with the most beautiful hair oil made out of Saffron and rose. It's beautiful and at a very reasonable price point. It's called Joon. Then there's a natural henna care line with amazing bars of soap and rose oil called Reshma.
https://www.instagram.com/p/BQdyjUWFEQ4
You can check the website for more info about the Indie Beauty Expo and affiliated events popping up across the country.