Kat Von D tells us about her vegan shoe line, and whether or not we can expect a Divine makeup collection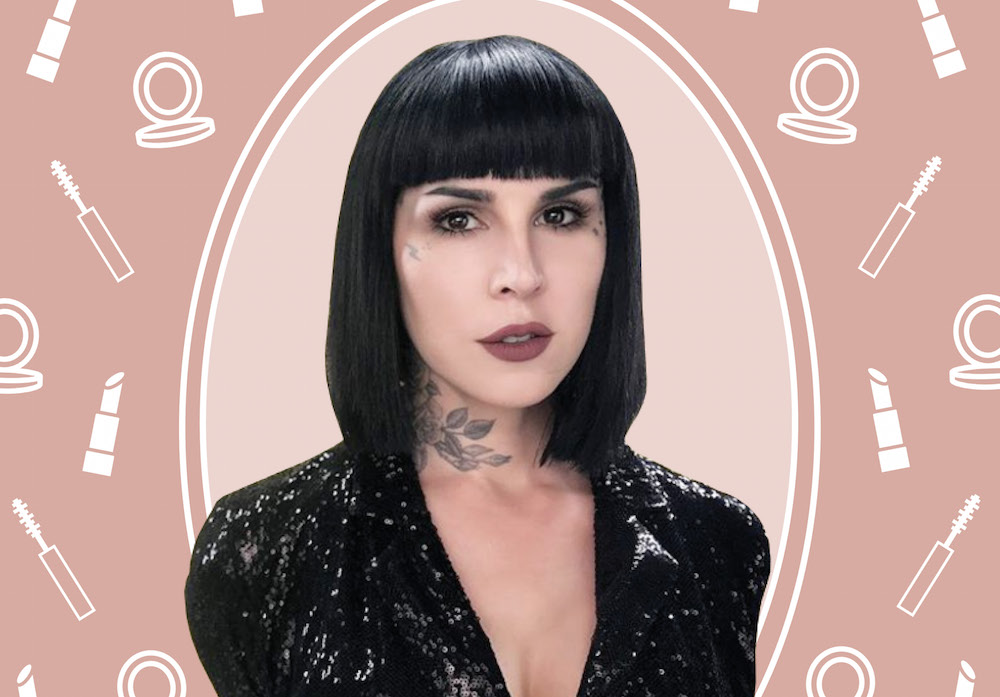 It's no mystery how much we adore Kat Von D here at HelloGiggles. A Renaissance woman in patent (faux) leather platforms, the artist, makeup mogul, and animal activist has won our hearts since she was on the show LA Ink, branding people with their dream tattoos. After launching her makeup brand in 2008, Kat had transcended to somewhat of an authority figure in the beauty industry — and the role is more than well-deserved. Looking for an all-around amazing vegan makeup line? Kat's your girl. Dying for a lipstick in a million badass shades that will sustain a makeout sesh? Get yourself some of her Everlasting Liquid Lipstick, honey.
We recently spoke with Kat about the projects she's working on, including her upcoming vegan shoe line. (Spoiler: If you're an Alejandro Jodorowsky or a John Waters fan, you're going to love what she told us.)
HelloGiggles: You've been teasing a lot of upcoming products. Can you tell us anything about the Farm Sanctuary collaboration?
Kat Von D: The Farm Sanctuary collection is my favorite charity product I've created thus far! I composed four new Everlasting Liquid Lipstick shades that include two must-have nudes, a rich rust, and a midnight blue metallic shade. I've named each shade after four of the many animals Farm Sanctuary has rescued, and I'm excited to finally be able to share each of these animals' inspiring back stories. Like all of the charity products I've created, they are limited-edition, and proceeds benefit Farm Sanctuary, an organization dedicated to rehabilitating and housing abused farm animals rescued from terrible conditions such as factory farming. I'm going to raise a lot of money, and more importantly, a whole lotta awareness through these new beautiful shades!
https://www.instagram.com/p/BWOCe4hAyLy
HG: We're big fans of John Waters. Can you tell us anything more about the Divine collection you posted about recently?
Kat: As much as I'm dying to spill the beans, it's a bit early in the game to give away all details, but yes. We are definitely in production to release a Kat Von D x Divine collection — and it's going to be fucking awesome.
HG: Being a fellow fan of the director Alejandro Jodorowsky, I have to ask if the Alchemist palette was inspired by him at all.
Kat: Yeah, to a certain degree. He's such a mystic in general, so alchemy is something that I would obviously tie back to that. But, I have a hundred other Jodorowsky references that I'm trying to remember. There's a shade of lipstick that I have, Santa Sangre. I think that man is so inspiring on so many levels. After watching Holy Mountain, that changed my life. People always ask about those little fake leather things I wear around my fingers. I'm like, you clearly have not seen El Topo. Obviously, he's an amazing person. I'm so glad that you asked that. I love when people pick up on that kind of shit cause it's like, yes!
https://www.instagram.com/p/BNH_nmFBTLg
HG: What is your skin care regimen like?
Kat: People ask me about my skin care regimen all the time, and although I know my answer isn't going to be all too exciting, I believe good skin starts from the inside out. I noticed the most drastic change in my complexion the minute I cut dairy out of my diet. There are tons of scientific research proving a direct connection between certain skin conditions and the consumption of dairy. I always tell people to just try it for 20 days and there's no way you won't see a difference!
HG: Do you think Kat Von D Beauty will ever delve into skin care?
Kat: It would make sense that we eventually go in that direction, but at the moment I still have way too many ideas pertaining to color categories to stray far.
https://www.instagram.com/p/BSjUTU_g8El
HG: Do you have an all-time favorite Everlasting Liquid Lipstick or do you find yourself frequently switching them up?
Kat: I definitely tend to change it up, but my most used shades from Kat Von D Beauty would have to be Lolita (for my go-to nude) and Santa Sangre (for my go-to red).
HG: Do you still plan on coming out with a shoe collection?
Kat: Yes. I'm currently in the middle of production for my new shoe line, and it's exciting as hell. I plan on launching with an impactful 26 unique styles. It's important for me to create something for everyone, including a few unisex styles. We are aiming at launching in January 2018.
HG: For fun, what's the last thing you bought online?
Kat: Gardening equipment.
Shop Kat Von D Beauty here and at Sephora, and follow Kat's Instagram here.