The internet wants Lupita Nyong'o and Rihanna to star in a movie based on this photo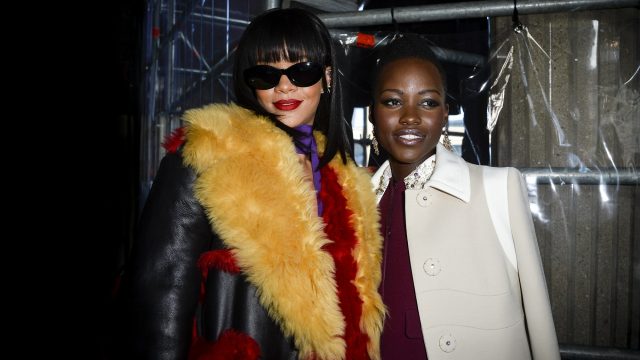 In a world where Twitter fans can influence the Hollywood film industry, two celebrities come together to make the best badass female film of all time! We're serious — this could happen any day now! Namely, the internet wants Lupita Nyong'o and Rihanna to star together in a film, and one party in the pair has already agreed to do it.
It all started with one Twitter user posting this photo of Rihanna and Lupita sitting together at the 2014 Miu Miu Fall/Winter runway show during Paris Fashion Week. Lupita looks posh in her thick-rimmed glasses and bejeweled collared shirt, while Rihanna looks fashionably outlandish in her yellow and red fur coat.
We can all agree that this picture is certainly one for the history books.
Another Twitter user with the handle 1800SADGAL saw this picture and tweeted out an elevator pitch for a film that we want tickets for stat!
These characters are spot on, don't you think?
In an effort to fast track this idea, another Twitter user pointed out how this plot would make a "banging" movie and 1800SADGAL should start writing the script.
If you need help, call us up. This idea has to happen!
https://twitter.com/udfredirect/status/854513317611810818
And we're not the only ones who think so. Lupita Nyong'o saw the viral tweet and wants in!
"I'm down if you are @rihanna," Lupita tweeted.
We're all FREAKING OUT!
https://twitter.com/udfredirect/status/855255085298794497
We even have concept art coming in! Give it the green light, Hollywood execs!
false
Keep you fingers crossed, ladies and gentlemen. All we need is the okay from Rihanna and we've got ourselves a film. We hope 1800SADGAL has a treatment already written up!