The internet is freaking out over the shape of the stage at the Teen Choice Awards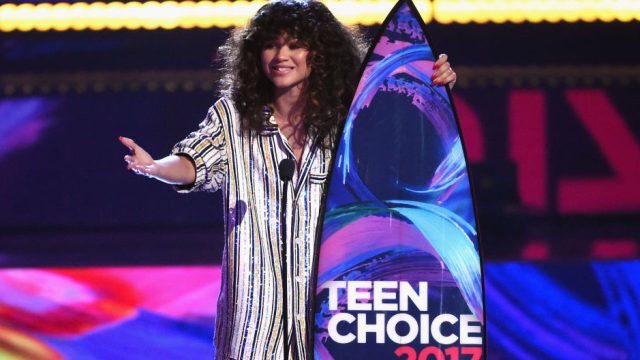 The award may be shaped like a surfboard, but it was the shape of the stage at the Teen Choice Awards that had people
talking. Because the Teen Choice Awards are up on the latest trends, they embraced the recent phenomenon of the fidget spinner as inspiration for the stage. That's right, the Teen Choice Awards stage was in the shape of a fidget spinner — and people of the internet had to let their opinions on this controversial shape be heard.
Although it looks like an unassuming toy, fidget spinners took over the world in 2017, with people using them to adorn everything from their nails to — for some reason — their breasts. And the 2017 Teen Choice Awards on August 13th wasn't going to be left out, with presenter Kumail Nanjiani joking about the toy and the stars of the new FOX show Ghosted — Adam Scott and Craig Robinson — attempting (and failing) to use them on the stage.
And speaking of the stage, let's get back to that since it's what was causing the uproar.
https://twitter.com/udfredirect/status/897037382939279361
And based on the reactions on Twitter, most people were DISPLEASED by the decision to make the stage a fidget spinner.
false false
The seemingly innocuous toy has gotten an extreme reaction since it became super popular this year, and obviously, those feelings of rage spilled over onto the Teen Choice stage. Even Christ Patt and Zendaya winning Teen Choice awards couldn't quell the rage.
However, not everyone hated the fidget spinner stage: Some people were actually amused.
false
And another Twitter user called it GOAT — as in, the greatest of all-time. Strong words for a fidget spinner, indeed.
Still, the shape of the stage couldn't take away from the fun night of awards. But if you haven't recovered from it, take solace knowing that the 2018 Teen Choice Awards will surely have a different stage — and you better hold out hope that it's not worse than a fidget spinner.