The internet is melting because Cole Sprouse took more photos of Lili Reinhart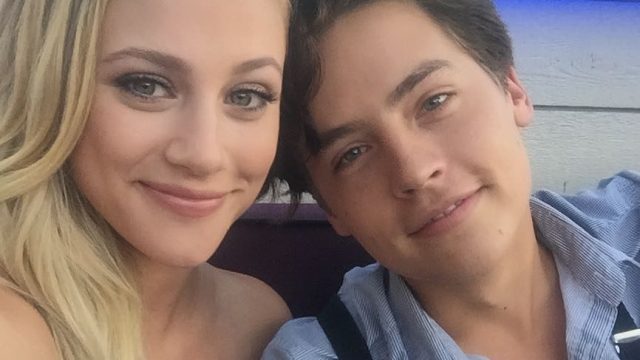 There are a few things we know for sure. It's October, it's fall, sweaters are the best, a cup of coffee can cure anything, and Cole Sprouse and Lili Reinhart are #goals. Besides being one of the best things about Riverdale, the two also have a creative relationship that we envy.
We already know that, besides being an actor, Cole Spouse is an incredibly talented photographer, who brings an ethereal quality to each of his pieces. And while we've seen him take plenty of beautiful photos, Cole's latest photo of Lili Reinhart may be our favorite yet.
The portrait of Lili looks straight out of a vintage film, and of course the internet has some major feelings about it.
https://www.instagram.com/p/BaXfVSCnvGT
In the image, which Cole captioned "410," we see Lili in a red silky dress with a plunging neckline, her arm outstretched with a wistful and cautionary look on her face. With glowing skin and a black choker, this outfit is striking in itself, but of course it's Lili who makes the shot. Lili's eyes seem equally curious and relaxed, like she's reaching for something straight out of Alice in Wonderland. 
The shot truly feels like a still from a film, right before something major happens.
Basically everyone's reaction to this photo? Something along the line of being shocked by the beauty and dead from the perfection of the photo.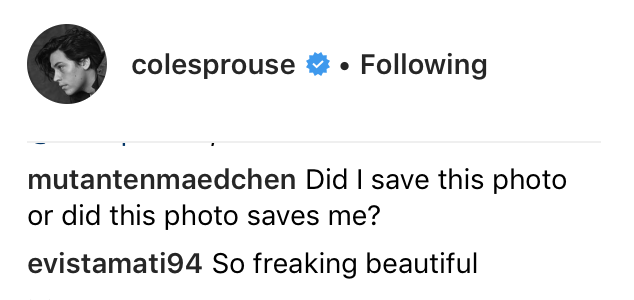 We have to give it up to the person who asked the real question: Did we save this photo or did this photo save us? We have a feeling it's the latter.
With Cole's eye for photography and Lili's natural beauty and grace, the two are destined to create some incredible art together. We can't wait to see what else the two collaborate on next.